Rewired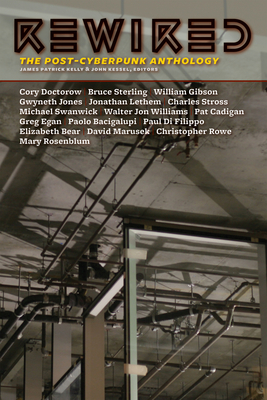 Rewired
The Post-Cyberpunk Anthology
Tachyon Publications, Paperback, 9781892391537, 424pp.
Publication Date: October 1, 2007
* Individual store prices may vary.
Buy at Local Store
Enter your zip code below to purchase from an indie close to you.
or
Buy Here
Description
Cyberpunk is dead. The revolution has been co-opted by half-assed heroes, overclocked CGI, and tricked-out shades. Once radical, cyberpunk is now nothing more than a brand.
Time to stop flipping the channel.
These sixteen extreme stories reveal a government ninja routed by a bicycle repairman, the inventor of digitized paper hijacked by his college crush, a dead boy trapped in a warped storybook paradise, and the queen of England attacked with the deadliest of forbidden technology: a working modem. You ll meet Manfred Macx, renegade meme-broker, Red Sonja, virtual reality sex-goddess, and Felix, humble sys-admin and post-apocalyptic hero.
Editors James Patrick Kelly and John Kessel ("Feeling Very Strange: The Slipstream Anthology") have united cyberpunk visionaries William Gibson, Bruce Sterling, and Pat Cadigan with the new post-cyberpunk vanguard, including Cory Doctorow, Charles Stross, and Jonathan Lethem. Including a canon-establishing introduction and excerpts from a hotly contested online debate, "Rewired" is the first anthology to define and capture the crackling excitement of the post-cyberpunks.
From the grittiness of "Mirrorshades" to the Singularity and beyond, it's time to revive the revolution.
About the Author
James Patrick Kelly is the author of many novels and short stories, including "Look Into the Sun", the Hugo-winning Think Like a Dinosaur, and the Nebula-winning "Burn". He lives in New Hampshire.

John Kessel lives in Raleigh, North Carolina.
Praise For Rewired…
"Cyberpunk is dead. Long live post-cyberpunk!"  Kirkus Reviews

"[The] strange, cinematically atmospheric story, 'Thirteen Views of a Cardboard City,' fits perfectly in Rewired."  William Gibson, author, Spook Country


"A short story collection filled with very good stories by very good science fiction writers offering very engaging ideas."  PopMatters
"Sixteen inspiring, mind-altering stories . . . and every story in the bunch is a knockout."  BoingBoing.net
"An excellent collection and a reminder that the short story is often the best venue for new ideas in the field."  SF Crowsnest.com
"Cyberpunk has grown past its rebel stage and is now not only capable of dazzling us with surfaces but also of speaking of the human condition."   Tangent
"Mind-altering . . . every story in the bunch is a knockout."  Monstrous.com