Content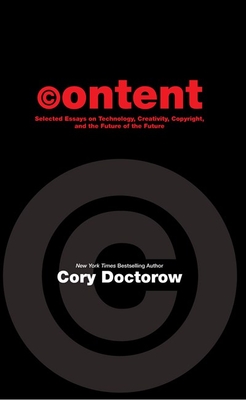 Content
Selected Essays on Technology, Creativity, Copyright, and the Future of the Future
Tachyon Publications, Paperback, 9781892391810, 213pp.
Publication Date: September 15, 2008
* Individual store prices may vary.
Buy Now
or
Shop Local
Enter your zip code below to purchase from an indie close to you.
Description
Hailed by Bruce Sterling as a political activist, gizmo freak, junk collector, programmer, entrepreneur, and all-around Renaissance geek," the Internet's favorite high-tech culture maven is celebrated with the first collection of his infamous articles, essays, and polemics. Irreverently championing free speech and universal access to informationeven if it's just a free download of the newest Britney Spears MP3he leads off with a mutinous talk given at Microsoft on digital rights management, insisting that they stop treating their customers as criminals. Readers will discover how America chose Happy Meal toys over copyright, why Facebook is taking a faceplant, how the Internet is basically just a giant Xerox machine, why Wikipedia is a poor cousin of The Hitchhikers Guide to the Galaxy, and how to enjoy free e-books. Practicing what he preaches, all of the author's books, including this one, are simultaneously released in print and on the Internet under Creative Commons licenses that encourage their reuse and sharing. He argues persuasively that this practice has considerably increased his sales by enlisting readers to promote his work. Accessible to geeks and nontechies alike, this is a timely collection from an author who effortlessly surfs the zeitgeist while always generating his own wave.
About the Author
Canadian-born Cory Doctorow is the author of the "New York Times" bestselling young adult novel "Little Brother", and the co-editor of the popular blog BoingBoing. His other YA novels include "Pirate Cinema" and "Homeland" (2013), the sequel to "Little Brother". His adult novels and short stories have won him three Locus Awards and the John W. Campbell Award for Best New Writer. He has been named one of the Web s twenty-five influencers by "Forbes Magazine" and a Young Global Leader by the World Economic Forum. He lives in London with his wife and daughter.
Praise For Content…
"Doctorow here proves he's smart, funny, and good at accessibly boiling down issues he's passionate about . . . a pleasure to read, not to mention thought-provoking."  Booklist
"Cory Doctorow straps on his miner's helmet and takes you deep into the caverns and underground rivers of pop culture."  Neil Gaiman, author,
American Gods
"We should all hope and trust that our culture has the guts and moxie to follow this guy. He's got a lot to tell us."  Bruce Sterling, author,
Zeitgeist
"Cory Doctorow is the apotheosis of what we talk about when we talk about the Web."  SF Site
"If all those Generation Z and proto-Singularity kids reading Doctorow's Little Brother also find their way to Content, this book may well become a classic."  mattselznick.com
"The most articulate and accessible writer engaged in these topics."  Time Out Chicago
"A nice collection of essays."  TeleReads
"More than just insightful, brilliant, and to the pointit's also funny and fun to read."  Electronic Frontier Foundation