The Third Bear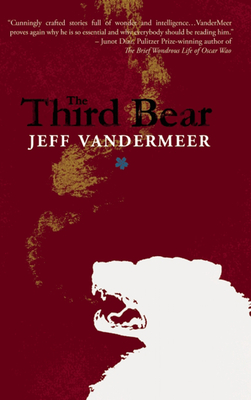 The Third Bear
Tachyon Publications, Paperback, 9781892391988, 273pp.
Publication Date: July 15, 2010
* Individual store prices may vary.
Buy at Local Store
Enter your zip code below to purchase from an indie close to you.
or
Buy Here
Description
Compared by critics to Borges, Nabokov, and Kafka, contemporary fantasist Jeff VanderMeer continues to amaze with this surreal, innovative, and absurdist gathering of award-winning short fiction. Exotic beasts and improbable travelers roam restlessly through these darkly diverting and finely honed tales.
In "The Situation," a beleaguered office worker creates a child-swallowing manta-ray to be used for educational purposes (once described as Dilbert meets Gormenghast). In "Three Days in a Border Town," a sharpshooter seeks the truth about her husband in an elusive floating city beyond a far-future horizon; "Errata" follows an oddly familiar writer who has marshaled a penguin, a shaman, and two pearl-handled pistols with which to plot the end of the world. Also included are two stories original to this collection, including "The Quickening," in which a lonely child is torn between familial obligation and loyalty to a maligned talking rabbit.
Chimerical and hypnotic, VanderMeer leads readers through the postmodern into a new literature of the imagination.
About the Author
Jeff VanderMeer is the best-selling author of "City of Saints and Madmen," the noir thriller "Finch," and the quintessential guide to writers, "Booklife." His award-winning novels have made the year's best lists at "Publishers Weekly," the "San Francisco Chronicle," and the "Wall Street Journal." His nonfiction and reviews have appeared in "Washington Post Book World," the "Huffington Pos," and the "New York Times Book Review."
Praise For The Third Bear…
"A fine introduction to one of our very best contemporary practitioners of the fantastic."  Publishers Weekly
"These 15 elegantly crafted stories ably demonstrate VanderMeer's skill . . . calls to mind the works of Borges, Kafka, and Lem."  Library Journal, Starred Review
"VanderMeer proves again why he is so essential and why everybody should be reading him."   Junot Diaz, Pulitzer Prize-winning author,
The Brief Wondrous Life of Oscar Wao
One of the things that sets VanderMeer apart is his embrace of technology and media. His online presence is considerable and includes a number of web sites, frequent blogging, a short film adaptation of his novel Shriek (including collaboration with pop rock band The Church), his Alien Baby photo project and even a project involving animation via Sony Playstation." Wired.com
"Jeff Vandermeer is not to be trusted. He hypnotizes with shiny objects, bizarrely beautiful shapes and phrases, then (more often than not) gently drifts you into very dark places. You won't know where you're going till you get there and then, of course, it's too late."  Mike Mignola, creator, Hellboy
"In the hands of a brilliant writer like Jeff VanderMeer, writing fantasy can be a means of serious artistic expression. . . . It is also playful, poignant, and utterly, wildly imaginative."  Peter Straub, author, The Talisman
"Fascinating . . . the harmonics between the stories cross all sorts of boundaries." 
Locus Magazine
"Jeff VanderMeer is an extraordinary writer . . . passionate, beautiful, complex, terrifying."  Tamar Yellin, author,
The Genizah at the House of Shepher