Get a Life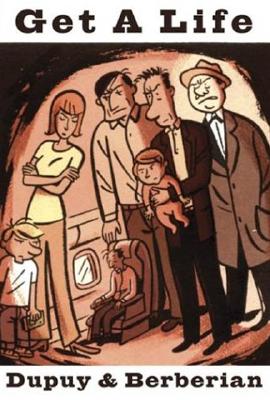 Get a Life
Drawn & Quarterly, Hardcover, 9781896597799, 144pp.
Publication Date: July 11, 2006
* Individual store prices may vary.
Buy at Local Store
Enter your zip code below to purchase from an indie close to you.
or
Not Currently Available for Direct Purchase
Description
A celebration of the sophistication, wit and charm found only in the singular collaboration of French cartooning team
For twenty years, French cartoonists Philippe Dupuy and Charles Berberian have collaborated on every aspect sharing both the writing and drawing of their highly acclaimed Mr. Jean short stories, creating one of the most endearing, clever, and readable series in contemporary French comics. Their award-winning, critically acclaimed series has sold more than 120,000 copies in France and has won one of comics' most coveted awards, the prestigious Angouleme Alph-Art
Award for the Best Book of the Year.
"Get a Life "is a collection of the early Mr. Jean stories where the reader is introduced to the life of the titular character, a laconic, single Parisian male struggling through the usual calamities of life: bachelorhood in his twenties and early thirties and the impending responsibilities of marriage, kids, and deadlines for his publisher. Mr. Jean is a typical everyman a scholar who fancies himself a man of letters, a nostalgist whose memories carry a weight few can understand, a lover whose heart knows the greatest of burdens. Melancholic yet joyful reflections on past loves, favorite authors, marriage, and fatherhood are laid out in a breezy, comic style.
About the Author


Ne le 28 mai 1959 a Bagdad.Apres plusieurs annees passees au Liban, Charles Berberian suit, a l'age de dix-huit ans, les cours de l'Ecole des beaux-arts de Paris ou il fait la connaissance de Francois Avril. Ses premieres bandes dessinees sont publiees dans divers fanzines dans lesquels il developpe un style graphique d'abord influence par Ralph Steadman.En 1983, il fait la connaissance de Philippe Dupuy, qui, comme lui, collabore aP.L.G.Une de leurs premieres realisations communes estun hommage a Herge, dans le fanzineBand'a Partn 13 (1983). Leurs signatures (scenario et dessin) deviennent indissociables - leurs premieres histoires communes sont reprises dans "Les heros ne meurent jamais". En 1984, ils font leur entree aFluide Glacial. Ils y realisentRed, Basile et Gegepuis "Le Journal d'Henriette", chroniques ameres et tendres d'une petite adolescente timide et complexee. En 1985, ils concoivent"Le Petit Peintre", un petit ouvrage propose dans la collection -Atomium -des editions Magic-Strip. En 1990, ils donnent naissance a"Monsieur Jean", dans Yeti. En 1994, ils realisent l'une des pieces maitresse de leur 1/2uvre: "Le Journal d'un album" (L'association). En 1999, le tome 4 des "aventures" de "Monsieur Jean" obtient le Prix du Meilleur Album au Festival d'Angouleme, et ils obtiennent en 2008 le Grand Prix de la Ville d'Angouleme.