The Chinaman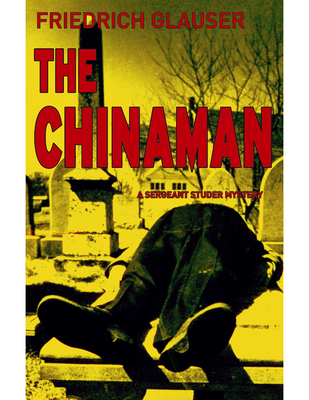 The Chinaman
Bitter Lemon Press, Paperback, 9781904738213, 186pp.
Publication Date: January 1, 2008
* Individual store prices may vary.
Not Currently Available for Direct Purchase
or
Shop Local
Enter your zip code below to purchase from an indie close to you.
Description
After reading Friedrich Glauser's dark tour de force "In Matto's Realm," it's easy to see why the German equivalent of the Edgar Allan Poe Award is dubbed The Glauser. "The Washington Post"
Praise for the Sergeant Studer series:
"Thumbprint" is a fine example of the craft of detective writing in a period which fans will regard as the golden age of crime fiction. "The Sunday Telegraph"
"In Matto's Realm" is a gem that contains echoes of Durrenmatt, Fritz Lang's film "M" and Thomas Mann's "The Magic Mountain." Both a compelling mystery and an illuminating, finely wrought mainstream novel. "Publishers Weekly"
When, in later years, Sergeant Studer told the story of the Chinaman, he called it the story of three places, as the case unfolded in a Swiss country inn, in a poorhouse, and in a horticultural college. Three places and two murders. Anna Hungerlott, supposedly dead from gastric influenza, left behind handkerchiefs with traces of arsenic. One foggy November morning the enigmatic James Farny, nicknamed the Chinaman by Studer, was found lying on Anna's grave. Murdered, a single pistol shot to the heart that did not pierce his clothing. This is the fourth in the Sergeant Studer series.
Friedrich Glauser is a legendary figure in European crime writing. He was a morphine and opium addict much of his life and began writing crime novels while an inmate of the Swiss asylum for the insane at Waldau.
About the Author
Diagnosed a schizophrenic, addicted to morphine and opium, Glauser spent the greater part of his life in psychiatric wards, insane asylums and prison. His Sergeant Studer novels have ensured his place as a cult figure in Europe.

Mike Mitchell was born and brought up in the north-east of Scotland and has spent a lifetime in transport management, first with British Rail and later with FirstGroup plc, where he was Chief Operating Officer. He was Managing Director of First Aberdeen, the successor of Aberdeen Corporation Transport in the mid 1990s. He has written several books and articles on the history of tramways and transport in north east Scotland. He now lives in West Yorkshire.