Following the Equator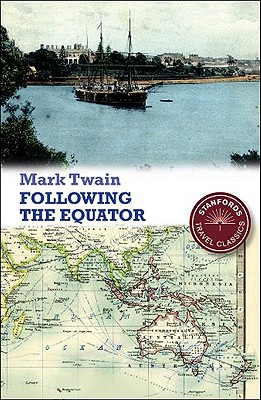 Following the Equator
John Beaufoy Publishing, Paperback, 9781906780258, 539pp.
Publication Date: October 1, 2010
* Individual store prices may vary.
Buy at Local Store
Enter your zip code below to purchase from an indie close to you.
or
Not Currently Available for Direct Purchase
Description
Mark Twain enjoyed immense public popularity during his lifetime, and was already one of the best-known authors in America when, in 1895, he set out on a worldwide lecture tour, undertaken to help him recover from bankruptcy following the failure of his publishing company. Starting in Paris, he journeyed across America to Vancouver, and thence, via Hawaii and Fiji, to Australia and New Zealand, in both of which countries he travelled widely. At the end of the year, he sailed from Sydney to Colombo, and became captivated by the Indian sub-continent, its people and their customs. Arriving in South Africa four months after the Jameson Raid, he had ample opportunity to employ his acerbic wit on the deteriorating relationship between the British and the Afrikaaners.
About the Author
Shelley Fisher Fishkin is Joseph S. Atha Professor of Humanities, Professor of English and Director of American Studies at Stanford University. She is the author of "Lighting Out for the Territory: Reflections on Mark Twain and American Culture "(1997); "Was Huck Black? Mark Twain and African-American Voices "(1993), selected as an Outstanding Academic Book by "Choice; "and "From Fact to Fiction: Journalism and Imaginative Writing in America "(2000), winner of a Frank Luther Mott/Kappa Tau Alpha Award for outstanding research in journalism history. She is also the editor of the 29-volume "Oxford Mark Twain "and the "Oxford Historical Guide to Mark Twain. "Barry Moser is one of the foremost wood engravers in the United States and is the proprietor of the Pennyroyal Press. Among other books, he illustrated "Huckleberry Finn "(California, 1985), "Moby Dick "(California, 1981), "Dante's Inferno "(California 1980), "Purgatorio "(California, 1981), and "Paradiso "(California, 1984), and the "Holy Bible "(1999). The Mark Twain Project is housed within the Mark Twain Papers, the world's largest archive of primary materials by this major American writer. Under the direction of General Editor Robert H. Hirst, the Project's five editors are producing the first comprehensive edition of all Mark Twain's writings, more than thirty volumes of which have so far been published by the University of California Press.