Double Dead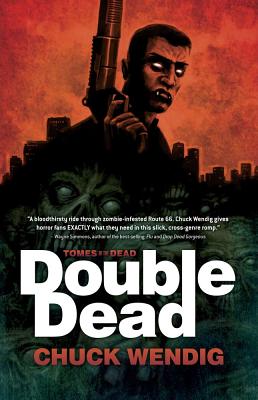 Double Dead
Abaddon Books, Paperback, 9781907992414, 320pp.
Publication Date: November 15, 2011
* Individual store prices may vary.
Buy at Local Store
Enter your zip code below to purchase from an indie close to you.
or
Buy Here
Description
In the Zombie apocalypse the last vampire on Earth has a hell of time keeping his food alive...
Coburn's been dead for close to a century, but seeing as how he's a vampire and all, it doesn t much bother him. Or at least it didn t, not until he awoke from a forced five-year slumber to discover that most of human civilization was now dead but not dead like him, oh no.
See, Coburn likes blood. The rest of the walking dead, they like brains. He's smart, they re not. But they "do" outnumber him by about a million to one, and the clotted blood of the walking dead cannot sustain him. Now he's starving, nocturnal, and more pissed-off than a bee-stung rattlesnake. The vampire not only has to find human survivors (with their sweet, sweet blood), but now he has to transition from predator to protector after all, a man has to look after his food supply.
About the Author
Chuck Wendig is a novelist, screenwriter and game designer. He's the author of many published novels, including but not limited to: Blackbirds, The Blue Blazes, and the YA Heartland series. He is co-writer of the short film Pandemic and the Emmy-nominated digital narrative Collapsus. Wendig has contributed over two million words to the game industry. He is also well known for his profane-yet-practical advice to writers, which he dispenses at his blog, terribleminds.com, and through several popular e-books, including The Kick-Ass Writer, published by Writers Digest. He currently lives in the forests of Pennsyltucky with wife, tiny human, and red dog.