The Holders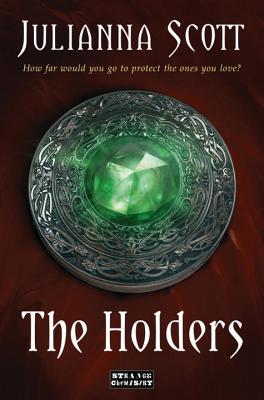 The Holders
Strange Chemistry, Paperback, 9781908844439, 363pp.
Publication Date: March 5, 2013
* Individual store prices may vary.
Not Currently Available for Direct Purchase
or
Shop Local
Enter your zip code below to purchase from an indie close to you.
Description
17-year-old Becca has spent her whole life protecting her brother from their father leaving and from the people who say the voices in his head are unnatural. When two strangers appear with apparent answers to Ryland's problem and details about a school in Ireland where Ryland will not only fit in, but prosper, Becca is up in arms.
She reluctantly agrees to join Ryland on his journey and what they find at St. Brigid's is a world beyond their imagination. Little by little they piece together information about their family's heritage and the legend of theHolderrace that decrees Ryland is the one they ve been waiting for but, they are all, especially Becca, in for a surprise that will change what they thought they knew about themselves and their kind.
Praise For The Holders…
'A fierce and intelligent heroine, a sibling with a challenging destiny to discover, a heart-warming romance, and an X-men type school for special powers in the Emerald Isle, all add up to a superbly gripping tale. I loved Becca and can't wait to read more of her world. A fantastic read!' 
– Suzanne McLeod, author of the Spellcrackers.com urban fantasy series

"Recommended to: Fans of X-Men, Fantasy buffs and anyone willing to have their world rocked. The Holders is a refreshing change in the Young Adult Fantasy arena, buy this book, hold it close to your chest and fall in love."
-Rebekah, Reflections of a Book Worm."

"I liked this one a lot!  I would recommend it to fans of Veronica Roth, Veronica Rossi and Leigh Bardugo, or anyone who enjoys a good urban fantasy or books with a Celtic background...4.5/5 Stars"
-Allodoxophobia 

"Unexpected betrayal, fascinating twists in the story, and the attraction between Becca and Alex makes his story an incredible read."
-Michele, PageTurnersBlog 

 ‎"Very well-written and unique, The Holders is an awesome read that will leave you with a strong hunger for the next book."
-My Crazy Book Obsession

"Becca and Alex's romance was so well done - bursting with believable romantic tension enough so that, had I been reading a physical copy, I would have been skipping ahead to try and find the next scenes involving them together."
-Liberty Gilmore

"Although this is a YA novel, its depth makes it much more than that. If you're into heroic, paranormal, fantasy novels with a touch of romance then you'll want to know more about this one."
-Popcorn Reads

"The Holders is total awesomeness. The characters are wonderful. This storyline is fantastic. The romance is heart-melting. Julianna Scott is an awesome writer and storyteller."
-I Heart YA Books

"For the first time in a long while I became invested in the characters in this book as though I had been reading about them for a long time."
 -Booky Ramblings of a Neurotic Mom

"The story has some great surprises and twists, lots of magic, lore, and dangerous excitement.  I highly recommend picking this one up, I doubt you'll be disappointed!  The next in this series will be high on my list of anticipated reads next year!"
-Stories & Sweeties
"Top-notch YA Urban Fantasy"
-Christal

"What really worked for me in this story were the characters, and the intertwining relationships between them all. The back of this book might say it's about a school for people with powers, but really this book is about people, relationships, and watching them evolve."
-Ryan