Emilie & the Hollow World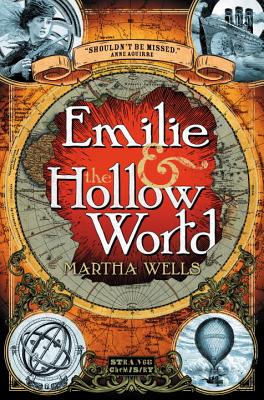 Emilie & the Hollow World
Strange Chemistry, Paperback, 9781908844491, 301pp.
Publication Date: April 2, 2013
* Individual store prices may vary.
Buy at Local Store
Enter your zip code below to purchase from an indie close to you.
or
Buy Here
Description
While running away from home for reasons that are eminently defensible, Emilie's plans to stow away on the steamship Merry Bell and reach her cousin in the big city go awry, landing her on the wrong ship and at the beginning of a fantastic adventure.

Taken under the protection of Lady Marlende, Emilie learns that the crew hopes to use the aether currents and an experimental engine, and with the assistance of Lord Engal, journey to the interior of the planet in search of Marlende's missing father.

With the ship damaged on arrival, they attempt to traverse the strange lands on their quest. But when evidence points to sabotage and they encounter the treacherous Lord Ivers, along with the strange race of the sea-lands, Emilie has to make some challenging decisions and take daring action if they are ever to reach the surface world again.
About the Author
Martha Wells is the author of five previous novels: The Wizard Hunters, the first book of the Fall of Ile-Rien, The Element of Fire, City of Bones, Wheel of the Infinite, and The Death of the Necromancer, which was nominated for the Nebula Award. She lives in College Station, Texas, with her husband.
Praise For Emilie & the Hollow World…
"A rollicking adventure yarn with plenty of heart - Emilie & the Hollow World shouldn't be missed." 
-Ann Aguirre, USA Today bestselling author

"A swashbuckling escape for avid readers that trades buttoned-up boundaries for unbridled adventure."
-Kirkus Reviews (Starred Review)

"Wells has struck pure gold with this exciting and elaborate story that has no limits on its imagination—it perpetually surprises and entertains and keeps the reader guessing. Filled with warmth and danger and plenty of suspense, Emilie and the Hollow World is such a good, honest, real adventure that just…hits the spot. It's just so good."
-Jet Black Ink

"Martha Wells introduces the newest fearless heroine in teen literature: Emilie. Wells takes readers on an adventure that braves a new world and rivals the Journey to the Center of the Earth!"
-Lovey Dovey Books

"If you're looking for a fun YA adventure with a lovely, strong female protagonist, Emilie and the Hollow Worldis the book for you."
-A Fantastical Librarian

"This book is definitely a good choice for younger readers, especially female ones, who a geeky parent is looking to introduce the wonders of genre reading."
-Paul Weimer, SF Signal

 Emilie and the Hollow World is one of the best and most entertaining YA books I've ever read, because it's a charming old-fashioned adventure book.
-Risingshadow

"Read it. Give it to your local twelve-year-olds. It's made of win."
-Liz Bourke, Sleeps With Monsters