Malarky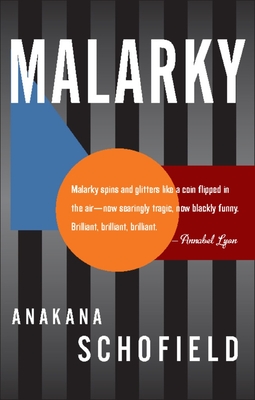 Malarky
A Novel in Epipodes
Biblioasis, Paperback, 9781926845388, 222pp.
Publication Date: April 2012
* Individual store prices may vary.
Buy Now
or
Shop Local
Enter your zip code below to purchase from an indie close to you.
Description
What happens when a woman loves her boy so intensely she destroys him? A striking new voice in Irish fiction.
Praise For Malarky…
"A fascinating voyage into the mind of a woman embattled ... absolutely beautiful."Toronto Star

"A miracle ... move over, Molly Bloom."Ann Kjellberg, Little Star

"Malarky becomes truly compelling when Our Woman embodies an existential strangeness. In certain moments, we are not so far from Beckett's Molloy - Our Woman comes close to enlivening not only the political and the personal but also the human. Schofield has true promise for this kind of writing, and it is there that I hope she next turns her sizable gifts, in the book that will surely follow this resoundingly successful first novel"San Francisco Chronicle

"One of the season's best reads"The National Post

"Quirky, raucous and utterly unconventional."Reader's Digest

"A glorious, breathless romp through the mind of an immensely likeable woman"Slightly Bookist

"One of the most vivid fictional creations to come along in years... Schofield starts at a pitch of inspiration most novels are lucky to reach at any point and remarkably sustains that level all the way through."The Montreal Gazette

"This is a brilliant book. Finely drawn, deceptively muscular, and pulsing with warm intelligence and wit"The Rover

"Schofield's brilliant storytelling in Malarky is among the most engaging I've ever encountered."The Longest Chapter

"Malarky is an exemplary read ... I look forward to the next of Anakana Schofield's novels."Scott Esposito, Conversational Reading

"Irish-Canadian literary critic Anakana Schofield's first novel is a tumultuous ride. Malarky asks questions without providing answers, chronicling the emotional, mental, and occasionally menial anxieties of Our Woman as she struggles with her own agency and desire. Set in contemporary Ireland, the book overflows with subtle and sometimes subversive allusions to James Joyce's Ulysses, Thomas Hardy's Tess of the d'Urbervilles, site-specific contemporary Irish art, and Catholic history. Yet Schofield's strong prose style and inventive approach to structure will likely reward readers unfamiliar with these cultural references."Quill & Quire

"Delightfully offbeat ... Schofield shows a deft - and altogether welcome - comic touch."The National Post

"The love of a mother for her son is the central theme of this novel. But the book has much to ask and much to say about many other topics as well, among them empowerment through sex, loneliness in marriage, the futility of war, the strains of immigration and the margins of mental health. Schofield's ability to tie all these together in such an original, quirky, tender and eloquent way is to be commended ... Malarky is an alternately beautiful, brilliant, profound, poignant and comedic work of literary fiction." The Winnipeg Free Press

"I loved this book Malarky ... I was gobsmacked."Sheryl MacKay, CBC Radio, North by Northwest

""Malarky is like nothing else, and what everything should be This is a book that will leave you demanding more of everything else you read."Pickle Me This

"Malarky is a wacky, dead serious book, and what stands out more than anything is its freshness in a sea of same-old, same-old novels.The Telegraph Journal

"A challenging but rewarding look at what happens to a mother when the bottom drops out."The Vancouver Sun

"Head and shoulders above many of its peers."The Georgia Straight