You Are Stardust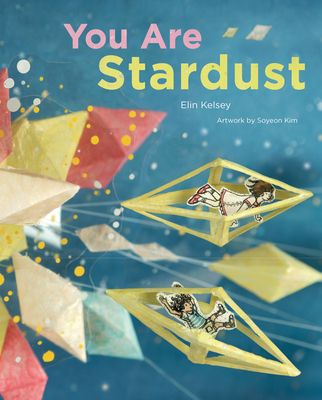 You Are Stardust
Owlkids, Hardcover, 9781926973357, 32pp.
Publication Date: September 11, 2012
* Individual store prices may vary.
Buy at Local Store
Enter your zip code below to purchase from an indie close to you.
or
Buy Here
Description
"You Are Stardust" begins by introducing the idea that every tiny atom in our bodies came from a star that exploded long before we were born. From its opening pages, the book suggests that we are intimately connected to the natural world; it compares the way we learn to speak to the way baby birds learn to sing, and the growth of human bodies to the growth of forests. Award-winning author Elin Kelsey along with a number of concerned parents and educators around the world believes children are losing touch with nature. This innovative picture book aims to reintroduce children to their innate relationship with the world around them by sharing many of the surprising ways that we are all connected to the natural world.
Grounded in current science, this extraordinary picture book provides opportunities for children to use their imaginations and wonder about some big ideas. Soyeon Kim's incredible diorama art enhances the poetic text, and her creative process is explored in full on the reverse side of the book's jacket, which features comments from the artist. Young readers will want to pore over each page of this book, exploring the detailed artwork and pondering the message of the text, excited to find out just how connected to the Earth they really are.

About the Author
Elin Kelsey is the author of "Saving Sea Otters, Finding Out about Whales, Strange New Species, "and other books. She consults for environmental organizations including the Monterey Bay Aquarium and the World Conservation Union (IUCN). She is a faculty member in the School of Environment and Sustainability at Royal Roads University in Canada.


Praise For You Are Stardust…
"In You are Stardust, Elin Kelsey works magic. This lyrical book effortlessly connects kids to their timeless origins, and the natural world, while teaching them science too. Soyeon Kim's playful illustrations will allow children's imaginations to run wild, even as they will hang on the book's every word. Bravo!"
~ Juliet Eilperin, National Reporter for the Washington Post , June 18, 2012

"We are made of earth and water and air and stardust, and we are more related to animals and plants than we ever imagined.

Everything about us is found in the natural world. Our atoms are from ancient stardust, and the water and salt that flows within us is part of the unchanging cycle that goes back to the beginning of time. We breathe pollen that, when released, may actually create a plant. We grow at night and seasonally shed and grow hair, in similar fashion to animals. We are also a living planet for millions of microorganisms. Kelsey doesn't lecture or overcomplicate the information. She speaks directly to readers in a way that opens minds to big ideas and paves the way for thoughtful questions of their own. The litany of facts comes alive in vivid, descriptive language, lending a philosophical, elegant and mystical aura to current scientific findings. Kim's incredibly unusual illustrations are sublime. Employing varied painting techniques, vivid colors, multidimensional cutouts, unexpected materials and unusual textures, she creates a view of nature that is at once real and otherworldly. This is a work that demands to be read and reread, studied and examined, and thoroughly digested. It is perfect for sparking adult and child conversations about our place in the universe.

A remarkable achievement."
~Kirkus Reviews, STARRED REVIEW, July 26, 2012

"Readers learn interesting facts about themselves and are urged to make parallels to the planet at large. Meanwhile paper cutouts of children travel from page to page in the mixed-media dioramas, illustrating the text's assertions in a fantastical way...each one provides much to consider and absorb."
~ Julie Roach, Cambridge Public Library, School Library Journal, September 1, 2012

"An exceptional collaboration."
~ ForeWord Reviews, September 1, 2012

"This is a book that reveals both the relationships and parallels between humans and the planet they live on, something children think about a lot...and it does so in a clear and compelling way...Don't miss this one, which begs to be shared intimately with children. Gather together, be still, and learn how we are stardust."
~ Julie Danielson , Kirkus Book Blog Network, September 14, 2012


Praise for Not Your Typical Book About the Environment:
"Elin Kelsey has produced a highly engaging book . . . The illustrations are fantastic and make a complex subject conservation and sustainable living easy to understand."
Jane Goodall