Ava and the Little Folk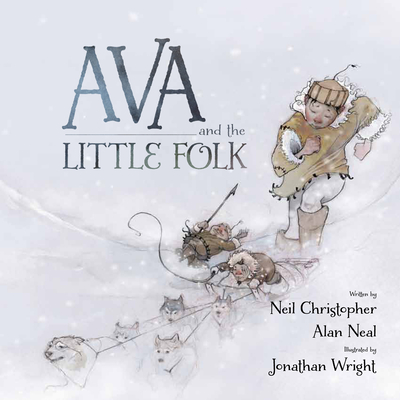 Ava and the Little Folk
Inhabit Media, Hardcover, 9781927095027, 41pp.
Publication Date: September 2012
* Individual store prices may vary.
Shop Local
Enter your zip code below to find indies closest to you.
Description
The most magical things can come in tiny packages In the Arctic, tales of tiny people who live on the land abound. This children's story follows the adventures of an orphan named Ava who is left to fend for himself by the adults in his village. One day, cold and alone, Ava stumbles upon a group of magical dwarves who finally show him how it feels to have a home of his own.
About the Author
In contrast to all of my friends, I was always a go-with-the-flow kind of person. In junior high, my buddies were planning their lives into their 20's and 30's while I was still trying to decide between "wood shop" and "Spanish" for my elective.
My interests came together during my college years...
I appreciated the study of psychology because so many of us have a tendency to overcomplicate the simple and muddle our intents.
I loved writing, especially the rule of knowing your topic and audience. I thought it was freeing, despite my elementary school experience of advancing from pencil to pen. That day marked the introduction of new paper. Gone were the grainy tan sheets. They were replaced by glossy white paper with delicate sky blue lines. With that paper came the dictum: "No cross-outs!" Mistakes were not allowed. The writing had to be perfect. I have no research to support it, but I believe this ridiculous rule ruined many a student writer and helped cement the fear of not being perfect.
Lastly, I had an affinity for technology. I didn't start with programming because of my experience in algebra class. My teacher, a very kind man, couldn't help but laughing at me in front of my fellow students. That's how bad I was. I laughed, too. Algebra just made no sense to me. But, I had another focus: a fascination with trying to interpret people's intent. I wanted to design software that took that intent into account.
My career spanned several decades. In the first half, I developed designs for computer interactions that are still in use today. If you operate a computer or similar electronic device, which I suppose you must if you're reading this, then you have likely encountered my designs.
I applied similar principles to facilitating groups and individuals: addressing people's interactions and intentions with one another and within themselves. Just as it is to push a button and get the unexpected or unintended, so it is with many aspects of our lives. Conversations don't go as planned. Life doesn't work as we hope. People misunderstand us. And, we misunderstand them.
I enjoy a simple life. Simple pleasures. Two rescue dogs. Chocolate. Good bread and cheese. When I was younger, I laughed about how easily my parents were pleased. As I grew older, I began to appreciate that blessing. What I hope to do, whenever given the chance, is help people discover their own simple pleasures, their own blessings, and their own calm.
-->JONATHAN WRIGHT received his doctorate in history from Oxford University. He has been a Thouron fellow at the University of Pennsylvania and a fellow of the Institute for European History in Mainz, Germany.?He is?also the author of God's Soldiers, a history of the Jesuits that has been translated into nine languages, ?and The Ambassadors.?