The Midnight Ride of Paul Revere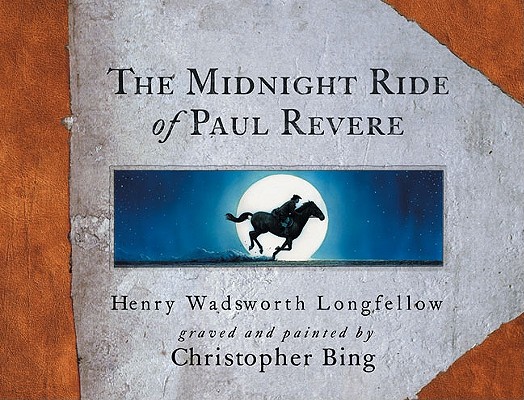 The Midnight Ride of Paul Revere
Chronicle Books, Hardcover, 9781929766130, 40pp.
Publication Date: October 1, 2001
* Individual store prices may vary.
Buy Now
or
Shop Local
Enter your zip code below to purchase from an indie close to you.
Description
In his magnificent interpretation of Henry Wadsworth Longfellows poem, Christopher Bing seamlessly weaves history and imagination into a rich portrait of an American hero. A meticulous researcher, Bing includes material that provides texture to history, maps that follow the British campaign to quell the rebellious citizenry, as well as the patriots ride into the Massachusetts night of April, 1775. Documents firmly affixed into the book, including the British generals orders to his troops and Reveres own deposition relating the events, give the reader not only a visual experience but a tactile one as well. Far more than a brilliantly presented history lesson, this book represents a tour de force of coherent artistic vision. In an extraordinary series of rich and moody engravings, from the mysteriously shimmering rigging of the British sloop, The Somerset, looming in a moonlit Boston harbor to the taut urgency of a man and his horse galloping at a combustible moment in the American experience, this book illuminates our countrys past unlike any other.
About the Author
Henry Wadsworth Longfellow was born in 1807 in Portland, Maine, and he became a professor of modern languages at Harvard. His most famous narrative poems include The Song of Hiawatha, Paul Reveres Ride, "The Village Blacksmith," "The Wreck of the Hesperus." From his friend Nathaniel Hawthorne, Longfellow got a brief outline of a story from which he composed one of his most favorite poems, 'Evangeline'. The original story had Evangeline wandering about New England in search of her bridegroom. One of the first poets to take the landscape and stories of North America as his subjects, Longfellow became immensely popular all over the world, and he was the first American commemorated in the Poets Corner of Westminster Abbey. He was given honorary degrees at the great universities of Oxford and Cambridge, invited to Windsor by Queen Victoria, and called by request upon the Prince of Wales. He was also chosen a member of the Russian Academy of Sciences and of the Spanish Academy. He died on March 24, 1882.