Tumble Me Tumbily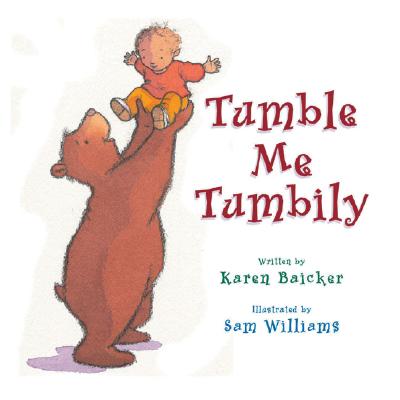 Tumble Me Tumbily
Chronicle Books, Hardcover, 9781929766611, 40pp.
Publication Date: October 1, 2002
* Individual store prices may vary.
Not Currently Available for Direct Purchase
or
Shop Local
Enter your zip code below to purchase from an indie close to you.
Description
In lilting language and eye-catching swirls of babies and toddlers, floppy stuffed animals and soft toys, Karen Baicker and Sam Williams transport their readers directly into the world of babies. Whether the babies are just getting up,
I am awake!
Im awake all the way,
Waked up to stay up
And wake up the day!
or going to bed,
Snuggle me snuggly
So warm and cuddly,
Huggily, happily
In your soft lap Ill be
the joyfulness of babies days will bring a smile to every readers face!
About the Author
Karen Baicker lives in Maplewood, New Jersey, with her husband and two young children, Lucy and Jake. Tumble Me Tumbily was her first children's book, and she is also the author of I Can Do It Too! and Pea Pod Babies. Besides writing for children, she is

Sam Williams began his career in London as a magazine and book designer. He has also been an art director and a publisher. He now illustrates books full time when he is not taking dares to climb mountains! He lives in England with his wife, three children,
Praise For Tumble Me Tumbily…
Baicker's first book bursts with the endless exuberance of toddlerhood, from wake-up ("I am awake!/I'm awake all the way./Waked up to stay up/and wake up the day!") to snuggle-down. Invitingly designed--thanks to Williams's (Cold Little Duck, Duck, Duck) ingenuity--to resemble a play in three acts, the volume opens with stage curtains parted to reveal a bombardment of babies, bear cubs, bunnies and balls in stripes, stars and nursery colors, indicating wake-up and playtime. A stage brimming with dancing cups, a bowl filled with babies of all skin tones and giant flying spoons starts the mealtime-themed second act; and winged cherubs and infants tucked into pea pods help the audience wind down. Williams begins with the image of a toddler waking his or her human mother and ends with a human mother nestling her child at bedtime, but the intervening pages picture babies gallivanting with bears and bunnies. A classic game to get baby to eat, for instance, becomes fodder for a wild fantasy: "Toot toot!/Choo-choo/Coming down/the track,/Pretzel, cracker/tummy packer/bringing me my snack" accompanies an animated freight train as it delivers fruits and other goodies. Baicker's joyful wordplay combined with Williams's imaginative spreads ensure that toddlers will plead for repeat performances. -Publishers Weekly
This picture book presents a trio of rollicking rhymes: one for waking up, one for eating, and one for bedding down again. Baicker's playful sense of sound animates the writing, which is sometimes punctuated with quiet sections, "Time to get Mommy / still sound asleep, / Butterfly kisses / to tickle your cheek," then picks up speed, bounding along with phrases like "Bumpity-bump as we go down the stairs / Bidee-boom / bidde-bumbly / Bouncity bears." Fun to read, the verses fairly gallop along, but quiet down again for the tender, "snuggle me snuggly" ending. In the fanciful illustrations, a racially diverse crew of babies and toddlers frolic about with bears, bunnies, elephants, mice, and even dancing vegetables and dishes. Deftly drawn, slightly scruffy lines create lovable characters in action. Washes contribute a variety of tintted effects from sunlit outdoor scenes to intensely colored dreamscapes. A rewarding picture book to read aloud. Tumbling is optional. -ALA Booklist