Flowers of a Moment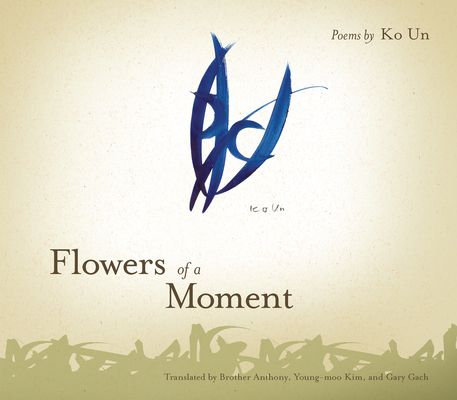 Flowers of a Moment
BOA Editions, Paperback, 9781929918881, 103pp.
Publication Date: November 1, 2006
* Individual store prices may vary.
Not Currently Available for Direct Purchase
or
Shop Local
Enter your zip code below to purchase from an indie close to you.
Description
"Bodhisattva of Korean poetry, exuberant, demotic, abundant, obsessed with poetic creation . . . Ko Un is a magnificent poet, combination of Buddhist cognoscente, passionate political libertarian, and naturalist historian."--Allen Ginsberg
"Korea's greatest living Zen poet."--Lawrence Ferlinghetti"Flowers of a Moment" is a treasure trove of more than 180 brief poems by a major world poet at the apex of his career. A four-time Nobel Prize nominee, Ko Un grew up in Korea during the Japanese occupation. During the Korean War, he was conscripted by the People's Army. In 1952, he became a Buddhist and lived a monastic life for ten years.For his activism confronting South Korea's dictatorial military government, he was imprisoned and tortured. He has published more than one hundred volumes of poetry, essays, fiction, drama, and translations of Chinese poetry.
"At sunset"
"a wish"
"to become a wolf beneath a fat full moon.
About the Author
Ko Un is author of "Beyond Self: 108 Korean Zen Poems and The Sound of My Waves: Selected Poems of Ko Un" as well as more than 100 volumes of poetry, short stories, fiction, criticism, essays, and children's literature, many of which have been best-sellers. His many awards include the Korean Literary Writers Award, Manhae Literary Award, and the Daesan Literary Award. Ko Un was Visiting Professor at the University of California, Berkeley, and Harvard University. Clare You, Chair, Center for Korean Studies, University of California, Berkeley, has received the Korean National Silver Medal of Culture, and is author of two language textbooks including "College Korean". Richard Silberg, associate editor of "Poetry Flash, " is author of five books of poetry and the book of essays "Reading the Sphere". You and Silberg have also co-translated the poems of Oh Sae-Young.