Taking the Stress Out of Raising Great Kids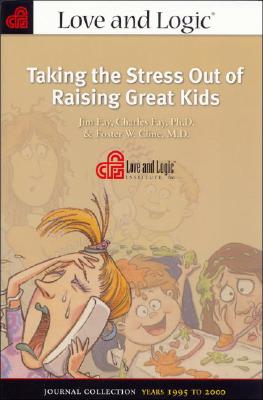 Taking the Stress Out of Raising Great Kids
Journal Collection, Years 1995 to 2000
Love & Logic Press, Paperback, 9781930429833, 181pp.
Publication Date: January 1, 2010
* Individual store prices may vary.
Buy at Local Store
Enter your zip code below to purchase from an indie close to you.
or
Not Currently Available for Direct Purchase
Description
This book is filled with excellent short stories that provide you with easy to use techniques that can be put to use immediately. It covers all age ranges for parents and educators and is half of our 20th Anniversary Journal Collection, years 1995-2000.
About the Author
In his 20 years as a speaker and consultant, Jim Fay has become one of America's most sought-after presenters in the fields of parenting, positive discipline, and classroom management. He is a best-selling author, and has become the pied piper for parents and educators searching for practical behavior management techniques. Jim has 31 years of experience in a variety of educational settings including public, private, and parochial schools. He has served as a consultant to parents, mental health organizations, and the U.S. military. Through his experiences as an art and music teacher, classroom teacher, principal, and administrator in both inner city and suburban schools, he saw the need to structure the classroom, the school, and the home in a way that would build positive relationships with children. "Parents and teachers often tell me 'it shouldn't be a popularity contest.' But when I started out as a parent and a teacher with lots of lecturing, threats, rewards, and punishments... it just didn't work," Jim says. "It's all about teaching children responsibility and self-discipline, while at the same time giving the message that the adults in their lives care about them." Jim slowly developed this new philosophy, learning as he went, experimenting with different techniques until he found a consistent and practical way to implement these strategies in his work with children. His philosophy has grown into what is now known as Love and Logic(r). "The Love and Logic philosophy primarily teaches character," says Jim. "And this character is built out of a formula that involves three things: the child makes a mistake, the adult responds with empathy and compassion instead of anger, and the child learns from the consequences of his or her actions." Jim is the parent of three children. His son Charles, a former school psychologist, joined the Love and Logic Institute as a speaker and consultant, and was recently named president of the organization. Jim has authored hundreds of books, articles, audios and videos, and is the man that coined the term "Helicopter Parents." Books, videos, and audios by Jim Fay include: . Parenting with Love and Logic . Teaching with Love and Logic . Helicopters, Drill Sergeants, and Consultants . The Four Steps to Responsibility . Raising the Odds for Responsible Behavior . Secrets of Step-Parenting . Shaping Self-Concept For more information about Jim Fay go to www.loveandlogic.com, or call 800-338-4065

Charles Fay, Ph.D. is a parent, author and consultant to schools, parent groups and mental health professionals around the world. His expertise in developing and teaching practical discipline strategies has been refined through work with severely disturbed youth in school, hospital and community settings. Charles has developed an acute understanding of the most challenging students.

Cline is an internationally recognized child and adult psychiatrist. He is a consultant to mental health organizations, parents' groups, and schools across North America. He specializes in working with difficult children.