Stop the Next War Now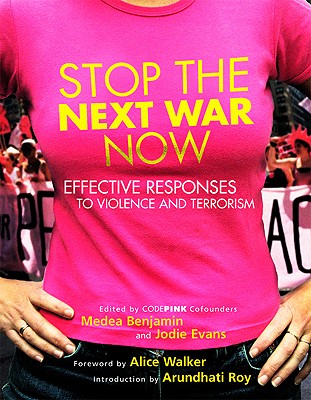 Stop the Next War Now
Effective Responses to Violence and Terrorism
Inner Ocean Publishing, Paperback, 9781930722491, 234pp.
Publication Date: April 18, 2005
* Individual store prices may vary.
Buy at Local Store
Enter your zip code below to purchase from an indie close to you.
or
Buy Here
Description
Violence begets violenceso believes the majority of people around the world who have stood up in protest against war. Stop the Next War Now is a reflective look and call to action to end violence, by acclaimed peace activists, experts, and visionaries, including Eve Ensler, Barbara Lee, Arianna Huffington, Janeane Garafalo, Nancy Pelosi, Maxine Hong Kingston, and many more. The book shares expert insight on the issues and powers-that-be that encourage war, including the media, politicians, global militarization, and the pending scarcity of natural resources. A powerful, smart, and passionate work, this book aims to educate and reflect on the effectiveness of peace movement activities and offer hopethrough shared ideas, action steps, and checkliststo transform a culture of violence to a culture of peace. How can people humanize each other, ask the authors, and act as responsible global citizens? With vitality, joy, and a dash of CODEPINK-style humor, Stop the Next War Now insists that the time is ripe for the first-ever global movement to put an end to warand tells readers what they can do about it.
About the Author
Medea Benjamin is a cofounder of the peace group CODEPINK and the international human rights organization Global Exchange. A former economist and nutritionist with the United Nations and World Health Organization, she is the author or editor of eight books. Her articles appear regularly in publications such as the Huffington Post, CommonDreams, AlterNet and OpEd News.



ALICE WALKER is an internationally celebrated writer, poet, and activist whose books include seven novels, four collections of short stories, four children s books, and volumes of essays and poetry. She won the Pulitzer Prize in Fiction in 1983 and the National Book Award.