Carson McCullers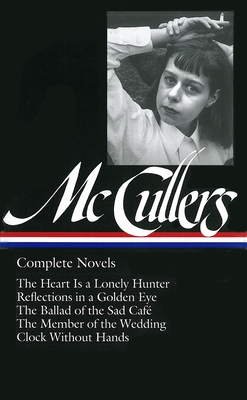 Carson McCullers
Complete Novels
Library of America, Hardcover, 9781931082037, 827pp.
Publication Date: October 1, 2001
* Individual store prices may vary.
Buy at Local Store
Enter your zip code below to purchase from an indie close to you.
or
Buy Here
Description
WhenThe Heart Is a Lonely Hunterwas published in 1940, Carson McCullers was instantly recognized as one of the most promising writers of her generation. The novels that followed established her as a master of Southern Gothic. This Library of America volume collects McCullers's complete novels for the first time in a single-volume edition that reveals the power and breadth of her haunting vision.
McCullers's gift, writes Joyce Carol Oates, was to evoke, through an accumulation of images and musically repeated phrases, the singularity of experience, not to pass judgment on it. McCullers effortlessly conveyed the raw anguish of her characters and the weird beauty of their perceptions. Set in small Georgia towns that are at once precisely observed and mythically resonant, McCullers's novels explore the strange, sometimes grotesque inner lives of characters who are often marginal and misunderstood. Above all, McCullers possessed an unmatched ability to capture the bewilderment and fragile wonder of adolescence.
In The Heart Is a Lonely Hunter(1940), one of the most extraordinary debuts in modern American literature, an enigmatic deaf-mute draws out the haunted confessions of an itinerant worker, a young girl, a doctor, and a widowed owner of a small-town cafe. The disfiguring violence of desire is explored with shocking intensity in two shorter works, Reflections in a Golden Eye(1941) andThe Ballad of the Sad Cafe(1943).
The Member of the Wedding(1946), thought by many to be McCullers's masterpiece, hauntingly depicts a young girl's fascination with her brother's wedding. In 13-year-old Frankie Addams, confused, easily wounded, yet determined to survive, McCullers created her most indelible protagonist.Clock Without Hands(1960), her final novel, was completed against great odds in the midst of tremendous physical suffering. Set against the background of court-ordered school integration, it contains some of McCullers's most forceful social criticism.
About the Author
Carson McCullers was born Lula Carson Smith in Columbus, Georgia, on February 19, 1917. At the age of nineteen she published her first short story, "Wunderkind," in Story magazine, and soon was contributing fiction to The NewYorker, Harper's Bazaar, and Mademoiselle. She won early critical and commercialsuccess with her first novel, The Heart Is a Lonely Hunter (1940), published whenshe was only twenty-three. Over the next quarter-century she published four morenovels and a collection of short stories, and found Broadway success with her playThe Member of the Wedding (produced in 1950). After a series of increasinglydebilitating strokes, she died in Nyack, N.Y., in 1967, at the age of fifty. Carlos L. Dews is the editor of the two-volume Library of America Carson McCullers editionas well aIllumination and Night Glare: The Unfinished Autobiography of Carson McCullers(University of Wisconsin Press, 1999). He is chair of the Department of English Language andLiterature at John Cabot University, Rome, and the Director of JCU's Institute for CreativeWriting and Literary Translation. From the Boxed Set edition."