The Gilded Age and Later Novels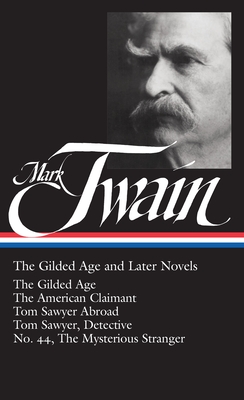 The Gilded Age and Later Novels
Library of America, Hardcover, 9781931082105, 1053pp.
Publication Date: January 2002
* Individual store prices may vary.
Buy Now
or
Shop Local
Enter your zip code below to purchase from an indie close to you.
Description
"Against the assault of laughter nothing can stand," Mark Twain once wrote. In this sixth volume in The Library of America's authoritative collection of his writings-the final volume of his fiction-America's greatest humorist emerges in a surprising range of roles: as the savvy satirist of The Gilded Age, the brilliant plotter of its inventive sequel, The American Claimant, and, in two Tom Sawyer novels, as the acknowledged master revisiting his best-loved characters. Also in this volume is the authoritative version of Twain's haunting last novel, No. 44, The Mysterious Stranger, left unpublished when he died.
The Gilded Age (1873), a collaboration with Hartford neighbor Charles Dudley Warner, sends up an age when vast fortunes piled up amid thriving corruption and a city Twain knew well, Washington, D.C., full of would-be power brokers and humbug. The novel also gives us one of Twain's most enduring characters, Colonel Sellers, who returns in The American Claimant (1892), an encore performance that moves beyond the worldly satire of its predecessor into realms of sheer inventive mayhem.
Tom Sawyer Abroad (1894) and Tom Sawyer, Detective (1896) extend the adventures of Huck and Tom. No. 44, The Mysterious Stranger (1908), an astonishing psychic adventure set in the gothic gloom of a medieval Austrian village, offers a powerful and uncanny exploration of the powers of the human mind.
About the Author
John S.Tuckey was Professor of English at Purdue University. He was the author of "Mark Twain and Little Satan "as well as other studies on the writings of Mark Twain.