Kate Chopin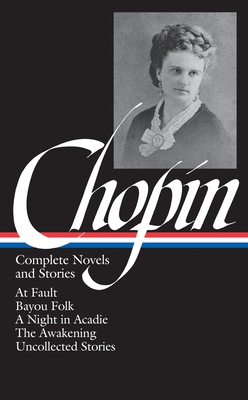 Kate Chopin
Complete Novels and Stories
Library of America, Hardcover, 9781931082211, 1071pp.
Publication Date: September 30, 2002
* Individual store prices may vary.
Not Currently Available for Direct Purchase
or
Shop Local
Enter your zip code below to purchase from an indie close to you.
Description
From ruined Louisiana plantations to bustling, cosmopolitan New Orleans, Kate Chopin wrote with unflinching honesty about propriety and its strictures, the illusions of love and the realities of marriage, and the persistence of a past scarred by slavery and war. Her stories of fiercely independent women, culminating in her masterpiece "The Awakening" (1899), challenged contemporary mores as much by their sensuousness as their politics, and today seem decades ahead of their time. Now, The Library of America collects all of Chopin's novels and stories as never before in one authoritative volume.
The explosive novel "At Fault" (1890) centers on a love triangle between a strong-willed young widow, a stiff St. Louis businessman, and the man's alcoholic wife. In the story collections "Bayou Folk" (1894) and "A Night in Acadie" (1897), Chopin transforms the local color sketch into taut, perfectly calibrated tales of post-Civil War bayou culture. In "The Awakening," the now-classic novel that scandalized many of her contemporaries and effectively ended her writing career, Chopin tells the story of a restless, unsatisfied woman who embarks on a quixotic search for fulfillment.
The volume also includes all the stories not collected by Chopin, including those meant for "A Vocation and a Voice," a projected volume that her publisher canceled in 1900, and three stories that were found in 1992 in a long-lost cache of Chopin's papers.

About the Author
Kate Chopin was born in St. Louis, Missouri, In 1851. She began writing shortly after her Husband's death and, from 1889 until her own Death, her stories and other miscellaneous Writings appeared in "Vogue, Youth's companion, Atlantic Monthly, Century, Saturday Evening Post, " and other publications. In addition to "The Awakening, "Mrs. Chopin published another novel, "At Fault, " and two collections of short stories and sketches, "Bayou Folk" and "A Night at Acadie." The publication of "The Awakening" in 1899 occasioned shocked and angry response from reviewers all over the country. The book was taken off the shelves of the St. Louis mercantile library and its author was barred from the fine arts club. Kate Chopin died in 1904.

Sandra M. Gilbert has published numerous volumes of criticismas well as collections of poetry and a memoir. She is coeditor (with Susan Gubar) of The Norton Anthology of Literature by Women and a recipient of the National Book Critics Circle s Ivan Sandrof Lifetime Achievement Award. A Distinguished Professor of English emerita at the University of California, Davis, she lives in Berkeley, California.