Walt Whitman Selected Poems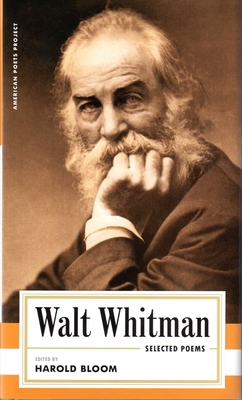 Walt Whitman Selected Poems
Library of America, Hardcover, 9781931082327, 254pp.
Publication Date: January 2003
* Individual store prices may vary.
Shop Local
Enter your zip code below to find indies closest to you.
Description
Harold Bloom, author of "The Western Canon" and one of the world's most renowned literary critics, surveys Walt Whitman's vast poetic work, from early notebook fragments of "Song of Myself" to the late poems of "Good-bye My Fancy."
About the Author
Walt Whitman (West Hills, Estado de Nova Iorque, 1819; Camden, Nova Jersei, 1892). Poeta, jornalista, escritor. Mudou-se para o Brooklyn em 1824, onde frequentou escola publica, trabalhou em escritorios ate entrar para tipografia como aprendiz em 1834. Nesse oficio tambem aprendeu a profissao de jornalista. Trabalhou em muitos jornais do Brooklyn e Nova Iorque e militou na politica partidaria. Em 1848 vai a Nova Orleans como editor na equipe do The Crescent. Fica apenas tres meses. Em 1849 abandona a politica para se dedicar a poesia. Em 1855 publica a primeira edicao de Folhas de Relva. O poema central e "Cancao de Mim Mesmo," uma elegia ao "eu." Em 1856, publica a segunda edicao e em 1860 a terceira. A ultima e a do Leito de Morte, de 1891-92. Em 1862 muda-se para Washington e percorre o cenario da Guerra de Secessao, iniciando seu trabalho de enfermeiro voluntario nos hospitais da capital. No periodo em Washington escreve Repiques de Tambor e Memorias do Presidente Lincoln. Em 1873 tem um ataque de paralisia e perde a mae. Em 1874 muda-se para Camden, Nova Jersei, onde reside ate o fim da vida.

Harold Bloom is a Sterling Professor of the Humanities at Yale University and a former Charles Eliot Norton Professor at Harvard. His more than thirty books include The Best Poems of the English Language, The Art of Reading Poetry, and The Book of J. He is a MacArthur Prize Fellow, a member of the American Academy of Arts and Letters, and the recipient of many awards and honorary degrees, including the Academy s Gold Medal for Belles Lettres and Criticism, the International Prize of Catalonia, and the Alfonso Reyes Prize of Mexico.