John Greenleaf Whittier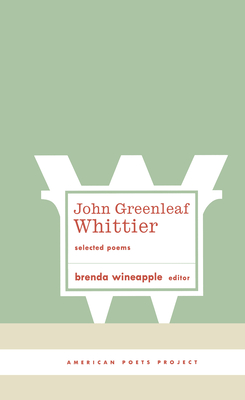 John Greenleaf Whittier
Selected Poems
Library of America, Hardcover, 9781931082594, 230pp.
Publication Date: March 2004
* Individual store prices may vary.
Shop Local
Enter your zip code below to find indies closest to you.
Description
A devout Quaker who became a passionate poetic spokesman for the antislavery movement, John Greenleaf Whittier (1807?92) was one of the most beloved American poets of his era. In the years before the Civil War, he campaigned tirelessly against slavery in poems that include ?Ichabod, ? his famous denunciation of Daniel Webster for his support of the Fugitive Slave Law. In the long poem ?Snow-Bound? (1866) he created a warm and enthralling portrait of rural life, while such works as ?Barbara Frietchie? and ?The Barefoot Boy? have been enduringly popular. This new selection brings together Whittier's many aspects?political, religious, richly descriptive?and reaffirms the emotional honesty and depth of his work
About the Author


Brenda Wineapple is the prizewinning author of several books, including White Heat: The Friendship of Emily Dickinson and Thomas Wentworth Higginson, which was a finalist for the National Book Critics Circle Award and a New York Times Notable Book. She lives in New York City.