Magic for Beginners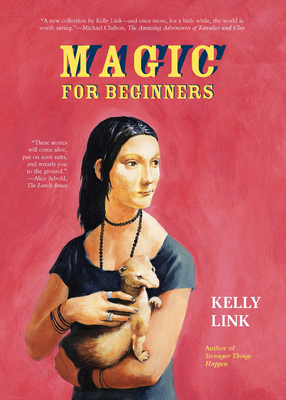 Magic for Beginners
Small Beer Press, Hardcover, 9781931520157, 272pp.
Publication Date: July 1, 2005
* Individual store prices may vary.
Buy Now
or
Shop Local
Enter your zip code below to purchase from an indie close to you.
Description
Best of the Decade: Salon, The A.V. Club
"If I had to pick the most powerfully original voice in fantasy today, it would be Kelly Link. Her stories begin in a world very much like our own, but then, following some mysterious alien geometry, they twist themselves into something fantastic and, frequently, horrific. You won t come out the same person you went in." Lev Grossman, "The Week"
"Highly original." "Publishers Weekly" (starred review)
"Dazzling." "Entertainment Weekly" (grade: A, Editor's Choice)
"Darkly playful." Michael Chabon
Best of the Year: "Time Magazine, Salon, Boldtype, PopMatters."
Kelly Link's engaging and funny stories riff on haunted convenience stores, husbands and wives, rabbits, zombies, weekly apocalyptic poker parties, witches, and cannons. Includes Hugo, Nebula, and Locus award winners. A Best of the Year pick from "TIME, " Salon.com, and Book Sense. Illustrated by Shelley Jackson.
Kelly Link is the author of three collections of short fiction "Stranger Things Happen," "Magic for Beginners," and "Pretty Monsters." Her short stories have won three Nebula, a Hugo, and a World Fantasy Award. She was born in Miami, Florida, and once won a free trip around the world by answering the question Why do you want to go through the world? ( Because you can t go through it. )
Link lives in Northampton, Massachusetts, where she and her husband, Gavin J. Grant, run Small Beer Press, co-edit the fantasy half of "The Year's Best Fantasy and Horror," and play ping-pong. In 1996 they started the occasional zine "Lady Churchill's Rosebud Wristlet.
About the Author
Kelly Link is the author of two collections, "Stranger Things Happen", and "Magic For Beginners" (one of Time Magazine's Best Books of the Year). Stories from her collections have won the Nebula, Hugo, World Fantasy, Tiptree, and Locus awards, and her work has recently appeared in "A Public Space, Firebirds Rising", and "Best American"" Short Stories 2005". Link and Gavin J. Grant started Small Beer Press in 2000. They have published the zine "Lady Churchill s Rosebud Wristlet" ( Tiny, but celebrated Washington Post) for ten years. An anthology, "The Best of Lady Churchill s Rosebud Wristlet", will be published this autumn.

Shelley Jackson is the author of the short-story collection "The Melancholy of Anatomy", the author of the hypertext novel "Patchwork Girl", several children's books, and "Skin," a story published in tattoos on the skin of nearly three thousand volunteers. She lives in Brooklyn, New York.
Praise For Magic for Beginners…
Intricate, wildly imaginative and totally wonderful. Whether or not you think you like fantasy, if you're a fan of inventive plots and good writing (her use of language will fill you with awe), don't miss Kelly Link's collection."
Nancy Pearl, NPR

Her exquisite stories mix the aggravations and epiphanies of everyday life with the stuff that legends, dreams and nightmares are made of, from pop culture to fairy tales. Some of these pieces are very scary, others are immensely sad, many are funny and all of them are written in prose so flawless you almost forget how much elemental human chaos they contain."
Salon, Best of the Decade

Link's stories ... play in a place few writers go, a netherworld between literature and fantasy, Alice Munro and J.K. Rowling, and Link finds truths there that most authors wouldn't dare touch."
Time Magazine

Locus Award winner. Young Lions Award, Bram Stoker, World Fantasy Finalist, Story Prize recommended reading list.

The dream-logic of Magic for Beginners is intoxicating. These stories will come alive, put on zoot suits, and wrestle you to the ground. They want you and you will be theirs."
Alice Sebold, The Lovely Bones

"A mind-bending blast, as funny, disturbing and poignant as anything I've read this year."
Capitol Times

The storyteller's mantraIt gets better"come to life and multiplied."
Village Voice

Link's powerful prose places this collection into a class of its own."
Boldtype (Notable Books)

Kelly Link's second collection trumps her first on all levels. The fantastic is more subtle here, more sinister and more pervasive. Link writes fantasy fiction in clear, crisp prose that features nontraditional zombies, a fictional television show, and large stone rabbits. She's toeing the line between literature and sci-fi/fantasy, and her books are usually found in the latter section in stores. The stories in Magic for Beginners are lengthier than typical short stories, driven by solid characters and weird, intriguing scenarios, like a 24-7 gas station that caters to zombies and humans alike. Link brings to each of her pieces a dreamlike, unsettling quality that adds to the sense that on some level of super-reality, all of the weirdness makes some sort of sense."
PopMatters

Eerie and engrossing."
Washington Post Book World

Dazzling.... One to savor."
Entertainment Weekly (A, Editor's Choice)

Magic for Beginners is worth picking up. Doing so will put you in the hands of a true conjurer."
Cleveland Plain Dealer

These stories shimmer like impressionist paintings."
Montreal Gazette

Kelly Link is the future of American short fiction."
Alexis Smith, Powells.com Staff Pick

The best short-fiction writer working in science fiction and fantasy today, and her new collection, Magic for Beginners, proves it."
Cory Doctorow, BoingBoing

Link's stories are delightfully playful, almost precocious, as she creates palimpsests of secret passages, hidden doors, quiet pulses of deeper meaning. Link is fast becoming a major talent."
Boston Globe

Advanced alchemy."
The Believer

Exuberantly eccentric."
Time Out New York

A complete delight."
Rich Horton, Locus

"Not only does Link find fresh perspectives from which to explore familiar premises, she also forges ingenious connections between disparate images and narrative approaches to suggest a convincing alternate logic that shapes the worlds of her highly original fantasies."
Publishers Weekly (Starred Review)

One of the most fascinating writers practicing the craft today."
The Simon

Wishful thinking on the brink of disaster."
Village Voice

Magical realism meets horror meets postmodern absurdism. Very fresh and funny."
Michael Knight, Knoxville Metro Pulse Summer Reading Guide

A bizarre and enchanting read, worth reading and re-reading."
Daily Nebraskan

Kelly Link has an uncanny knack for casting spells over her readers, for luring them into the dark places the attic, the underworld, a realm beneath a hill. These stories bend and transcend genre as Link stirs together myth, mystery, horror, and fantasy. Fairy tales and myths may be timeless, but these stories are of this moment."
Nina MacLaughlin, Boston Phoenix

Cult-favorite fabulist and Shirley Jackson-esque master of the short story, returns with an eagerly-awaited new collection of thoughtfully strange tales that sprinkle the mundane with pixie dust, a dash of old-fashioned tragedy and a bit of gallows humor."
The Ruminator Review

Truly magical, with masterfully crafted stories that are as dark as they are delightful.... Sometimes hilarious, sometimes disconcerting, Link's stories demonstrate her wicked sense of humor and genius wit."
Bookpage

I am in love with Kelly Link's new collection of stories, Magic for Beginners just out in hardcover. This book is a fairly complete list of my favorite things. She sort of summarized it best when she signed it for me: Love, Magic, Zombies!" It's fantastical, whimsical, and dead serious and it makes me interested in short stories again."
Alexander Chee (Edinburgh) in Books To Watch Out For

This is one of the most extraordinary and wonderful books of the year."
Time Out London

Possibly grimmer than Grimm."
The Herald

Beautifully written short stories; eccentric and dark, the collection is an Alice in Wonderland for grown-ups."
Dazed and Confused

Link's writing is bold, tender, mischievous and unsettling."
Cork Evening Echo

These are weird and wacky tales, each with their own barmy internal logic which draws you in, flips you on your head and leaves you dizzy with disbelief. Link's extraordinary use of language is as haunting as the tales themselves. She blends fantasy and reality into an irresistible melange that, at its best, becomes a powerful metaphor for the unreliability of perception."
Jane Wessel, Venue (****)

Link's magic is to show the extraordinary in the ordinary and vice versa: no mean feat."
RTE Guide (*****)

Just when you think you've read all the best magic and fantasy stories, along comes Link and the dull world is enchanted all over again. Her imagination floats free into her very own twilight zone."
Saga

Whether she's writing about a suburban family haunted by rabbits or a grandmother who keeps a world hidden in her handbag, Link's stories are witty, moving and sometimes scary."
The Gloss Magazine

A collection of nine stories from a talent to watch, this is a lyrical fantasy where the ordinary is made extraordinary."
The Bookseller

Kelly Link owns the most darkly playful voice in American fiction since Donald Barthelme. She is pushing the American short story into places that it hasn't yet been pushed, while somehow managing to maintain a powerful connection to traditional forms and storytelling values."
Michael Chabon, The Amazing Adventures of Kavalier and Clay

A wonderful rattlebag of fantastic tales from far beyond the concrete sidewalks and convenience stores we know."
Rich Rennicks Malaprop's Bookstore/Cafe, Asheville, NC

In the very best way, I never know what is coming next. If she only parcelled out one elegant sentence at a time I would beg for each one."
Pam Harcourt, Women & Children First, Chicago, IL