After the Apocalypse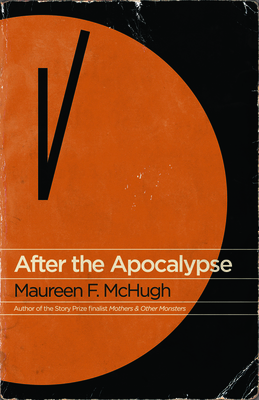 After the Apocalypse
Stories
Small Beer Press, Paperback, 9781931520294, 264pp.
Publication Date: November 8, 2011
* Individual store prices may vary.
Buy at Local Store
Enter your zip code below to purchase from an indie close to you.
or
Buy Here
Description
Self aware computers. Zombies. Clinical trial volunteers. Chinese factory workers. Dolls that look like newborn infants. After the apocalypse.
About the Author
Maureen F. McHugh is the author of the critically acclaimed novels Mission Child, China Mountain Zhang -- which was a New York Times Notable Book, nominated for both a Hugo and a Nebula Award, and winner of the Locus Readers' Poll for Best First Novel, a James Tiptree Award, and a Lambda Award -- and Half the Day is Night. She received the Hugo for her short story "The Lincoln Train," and other stories have appeared in several publications and anthologies, including in the highly regarded collection Starlight 1. Ms. McHugh lives in Ohio with her husband and stepson.
Praise For After the Apocalypse…
"Incisive, contemporary, and always surprising, McHugh's second collection confronts near-future life with an ironic and particular eye. Her characters live with zombies, struggle to make ends meet on the ArizonaMexico border, and cope with China's descent into capitalism in stories that stretch the boundaries of imagination."
Publishers Weekly Top 10 Best of the Year

"Superb.... Against backdrops of sheer terror, Ms. McHugh's characters insist on investing themselves in flirtations, friendships and jobs. They keep their innocent curiosity for the world even as it falls to pieces."
Wall Street Journal

The stories in After the Apocalypse will catch many readers off-guard; they're suspenseful, but they never quite go where you expect them to. The end of the world as we know it will never be the same again."
Salon

The best stories in this mesmerizing collection from the L.A. writer are the ones that elude categorizationthe struggles of a troubled doll maker in Useless Things," the fantasies of an impulsive man in Going to France." It's the ordinary and everyday that we should be afraid of, not the prospect of big explosions and world-ending catastrophes. This is a pro stretching a genre to its limitssubverting, inverting, perverting, disturbing."
Los Angeles Magazine

McHugh brings a subtle grittiness to the end of days. There is no post-apocalyptic glamour in these post-apocalyptic tales."
Cleveland Plain Dealer

These nine stories take place in a world that has been ravaged by prion diseases and economic collapse, even as it enters a new age of artificial intelligence and green biotech. You won't be able to forget the people you meet there."
io9

One of the best short story collections I've read in the last decade."
Chris Moriarty, F&SF

McHugh's approach to the apocalypse is oblique, a concern with the personal, the individual or family unit, rather than the devastation that surrounds them. [T]here are perhaps half a dozen stories that are as powerful as anything you are likely to read this year."
Strange Horizons

Hugo-winner McHugh (Mothers & Other Monsters) puts a human face on global disaster in nine fierce, wry, stark, beautiful stories. . . . As McHugh's entirely ordinary characters begin to understand how their lives have been transformed by events far beyond their control, some shrink in horror while others are matter of fact as a heart attack," but there is no suicidal drama, and the overall effect is optimistic: we may wreck our planet, our economies, and our bodies, but every apocalypse will have an after" in which people find their own peculiar ways of getting by."
Publishers Weekly (*starred review*)

Like George Saunders (CivilWarLand in Bad Decline, 1996), McHugh displays an uncanny ability to hook into our prevailing end-of-the-world paranoia and feed it back to us in refreshingly original and frequently funny stories. In these nine apocalyptic tales, people facing catastrophes, from a zombie plague to a fatal illness contracted from eating chicken nuggets, do their best to cope. In Useless Things," perhaps the most affecting story in the collection, a resourceful sculptor, worried about drought and money in a time of high unemployment and increasing lawlessness, turns her exquisite crafstmanship to fashioning sex toys and selling them on the Internet with the hope of making enough money to pay her property taxes. In Honeymoon," a participant in a medical trial that goes horribly wrong watches in horror as six men are hospitalzed in critical condition; she uses her payment to take a vacation because, when all was said and done, she wanted to dance. It didn't seem like a bad choice." That survival instinct is what makes McHugh's collection a surprisingly sunny read in spite of the global disasters that threaten at every turn. An imaginative homage to the human ability to endure."
Booklist (*starred review*)