Preparing Heirs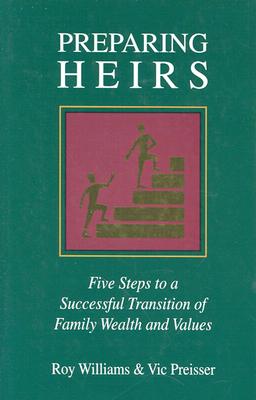 Preparing Heirs
Five Steps to a Successful Transition of Family Wealth and Values
Robert Reed Publishers, Hardcover, 9781931741316, 165pp.
Publication Date: January 2010
* Individual store prices may vary.
Shop Local
Enter your zip code below to find indies closest to you.
Description
Preparing Heirs discloses the surprising findings from the authors' research into the legacies of 3,250 wealthy families. With extraordinary insight, they reveal what the relatively small number of successful families had in common-how they achieved and maintained family harmony, and ensured the smooth transition of their wealth to well-adjusted heirs. They also warn of the wide range of factors that cause the majority of wealthy families to fail in their transition. Preparing Heirs offers clear, concise, well-organized, and easy-to-follow instructions that will enable you to evaluate your plan for transitioning family wealth. Preparing Heirs is an assessment tool that can be used in conjunction with the services of qualified professionals such as attorneys and accountants. It addresses the major causes for the 70% failure rate in estate transitions, which lie within the family itself and are within the family's control. This book can help you develop a plan to transmit the family values underlying the accumulation of wealth and prepare your heirs to be good stewards and thoughtful administrators of that wealth.
About the Author
ROY WILLIAMS head coach of the University of North Carolina mens basketball team, the Tar Heels, has the highest winning percentage in NCAA history. Over the last seven years, the 58-year-old Asheville, N.C., native who was inducted into the Hall of Fame in 2007 has won 205 games, including 24 in the NCAA Tournament. Thats more Final Fours, more wins, and more NCAA Tournament victories than any basketball coach in the nation.

Formerly the Secretary of Social Services and Secretary of Transportation for the State of Iowa, Vic Preisser is a successful entrepreneur and has served in senior executive capacities with Fortune 500 companies.