Taking the Red Pill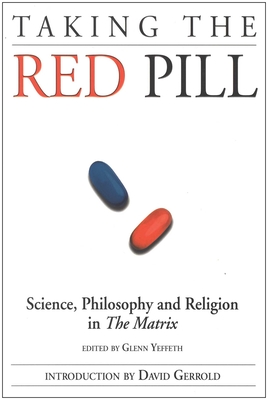 Taking the Red Pill
Science, Philosophy and the Religion in the Matrix
Benbella Books, Paperback, 9781932100020, 277pp.
Publication Date: March 11, 2003
* Individual store prices may vary.
Buy at Local Store
Enter your zip code below to purchase from an indie close to you.
or
Buy Here
Description
** COMPLETELY UNAUTHORIZED ** This thought-provoking examination of The Matrix explores the technological challenges, religious symbolism, and philosophical dilemmas the film presents. Essays by renowned scientists, technologists, philosophers, scholars, social commentators, and science fiction authors provide engaging and provocative perspectives. Explored in a highly accessible fashion are issues such as the future of artificial intelligence and virtual reality. The symbolism hidden throughout The Matrix and a few glitches in the film are revealed. Discussions include Finding God in The Matrix," The Reality Paradox in The Matrix," and Was Cypher Right?: Why We Stay in Our Matrix." The fascinating issues posed by the film are handled in an intelligent but nonacademic fashion.
About the Author
Glenn Yeffeth is the editor of the nonfiction essay anthologies "Alias Assumed, The Anthology at the End of the Universe, Navigating the Golden Compass, Seven Seasons of Buffy, Taking the Red Pill, "and "War of the Worlds: Fresh Perspectives on the H. G. Wells Classic." He lives in Dallas, Texas.


David Gerrold was barely out of his teens when he wrote the script "The Trouble With Tribbles" for the classic television series "Star Trek". Nominated for a Hugo Award, it was listed by "Playboy" magazine as one of the 50 Greatest Television Episodes of All Time. And in a 1997 FOX TV special it ranked as the most popular science fiction episode on television of all time. He has written dozens of novels and twice has been nominated for both the Hugo and the Nebula awards. His novelette "The Martian Child" won the SF triple crown: the Hugo Award, the Nebula Award, and the Locus Readers Poll as Best Novelette. In addition to novel writing, he has written television scripts for "Babylon 5", "Tales from the Darkside", and "The Twilight Zone". He served as a story editor/producer for the first season of "Star Trek: The Next Generation". A frequent guest at SF conventions here and in Europe, he began a charity in 1988 in which money earned from charging one dollar for autographs -- plus profits from the sale of other SF memorabilia -- is donated to AIDS Project Los Angeles.