Java 2 Core Language Little Black Book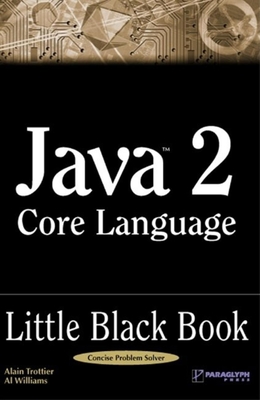 Java 2 Core Language Little Black Book
Paraglyph Press, Paperback, 9781932111668, 440pp.
Publication Date: August 1, 2002
* Individual store prices may vary.
Not Currently Available for Direct Purchase
or
Shop Local
Enter your zip code below to purchase from an indie close to you.
Description
The focus of this book is on the core Java language as implemented by the new version of Java, version 1.4. The book features a logical, sequential approach with concise overviews, then step-by-step immediate solutions created by a master Java programmer. This book is also packed with over 150 code listings which can be used as is or quickly modified.

About the Author
Alain Trottier observes the .com warfare of Southern California as a technology management consultant (Strategic Business Resources) and an adjunct professor at Vanguard University. He has been in the tech sector for two decades. On the electronics side, he has worked with RF gear, nuclear power plants, and electromechanical devices. On the IT side, he has held roles as a technologist, a developer support specialist, a programmer, an architect, and a manager. Alain got a kick out of being in the U.S. Submarine Navy (nuclear power division), and he was impressed with his bosses at Chevron's world-class research center. He was astonished by the .com bubble while at Adforce and then Winfire, where he experienced a meteoric IPO and then a subsequent flameout. He has been through a get-it-right-at-all-cost experience in a Fortune 30 company, and he also has witnessed the other extreme, in which one bets it all on a get-it-out-there-at-no-cost venture.
Alain enjoys a difficult technological challenge and likes the people even better. He believes that his degrees in religion (Bachelor of Arts, Master of Arts with a specialization in the linguistics of ancient religious texts) is a terrific way to broaden one's abilities. He has certifications from both Microsoft and Sun, so his bias is simply what works best for a given situation. If you have a question, comment, or even a challenge, the author would be delighted to hear from you. Please contact him (think Chief Technology Ambassador) from the book's Web site, at http: //www.inforobo.com/scwcd/examcram.
Steve Heckler is a freelance programmer and IT trainer specializing in .NET, Java, ColdFusion, Flash ActionScript, and XML. Based inAtlanta, Georgia, he works with clients nationwide. In addition, he is the author of the Sun Certification Instructor Resource Kit (310-025, 310-027): Java 2 Programmer and Developer Exams and Sun Certification Instructor Resource Kit (310-080): Java 2 Web Component Developer Exam. He is currently writing an ASP.NET-related book for Addison-Wesley.
Before being self-employed, Steve served nearly seven years as vice president and president of a leading East Coast IT training firm. He holds bachelors and masters degrees from Stanford University.
Al Williams (Houston, TX) is the author of 18 books, including many programming titles, as well as "Embedded Internet Design, " also published by McGraw-Hill. An electronics professional for over 20 years, he is principal of his own company, AWC, which produces hardware modules for microcontroller developers. Mr. Williams also designs PCBs for a wide array of clients.