The Little Big Book of California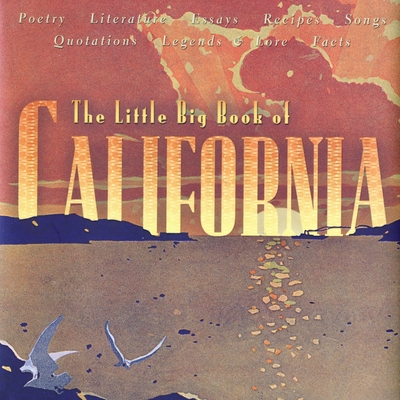 The Little Big Book of California
Welcome Books, Hardcover, 9781932183702, 352pp.
Publication Date: April 2005
* Individual store prices may vary.
Shop Local
Enter your zip code below to find indies closest to you.
Description
Full of observations natives will appreciate, but also the ideal souvenir for tourists, this book is designed with vintage art and packed with literary excerpts, poems, facts, songs, quotes, legends, and recipes celebrating the Golden State.
Literary Excerpts for authors such as Joan Didion, Jack London, John Steinbeck, and Amy Tan.
Poems by the likes of Robert Hass, John Muir, and Walt Whitman.
Fact Spreads including Famous Californians, Moments in History, Earthquakes, and Surf's Up.
Song Lyrics including " I Left My Heart in San Francisco, "California Girls," and "San Andreas Fault."
Legends and Lore of everything you ever wanted to know about California, including the building of San Francisco's bridges, the Gold Rush, the Water Wars, and Hollywood.
Recipes for California nouveau classics like BBQ Chicken Pizza, California Rolls, and Chinese Chicken Salad join more traditional fare such as Crab Louis and Fish Tacos.
Vintage Americana postcard and paper ephemera that illustrates eras of time gone by.
About the Author
Natasha Tabori Fried is Managing Editor of Welcome Enterprises, Inc. She has co-edited, with Lena Tabori, The Little Big Book Of Love (William Morrow), and The Little Big Book of Chills & Thrills (Welcome).
Lena Tabori is publisher, director, and founder of Welcome Enterprises, Inc., a publishing and packaging company based in New York and San Francisco.
She has spent her professional life in publishing, beginning at Harry N. Abrams in 1967, which she later left to create Welcome and to cofound Stewart, Tabori & Chang, a publishing company. Love is an enduring subject for Tabori, who has previously edited Kisses, published by Turner Publishing, in 1991, and Love: A Celebration in Art and Literature with Jane Lahr for STC in 1982.
Lena Taborilives in San Francisco and New York City with her significant other, Frank.
Natasha Tabori Fried is managing editor at Welcome Enterprises. She was formerly an associate producerat the MacNeil/Lehrer NewsHour andFox News Channel.