Saying Yes to Japan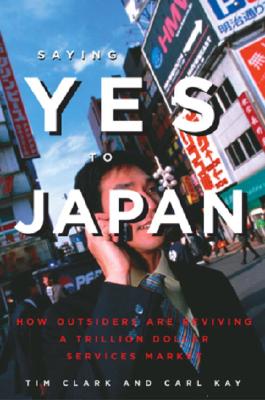 Saying Yes to Japan
How Outsiders Are Reviving a Trillion Dollar Services Market
Vertical, Paperback, 9781932234183, 175pp.
Publication Date: April 2005
* Individual store prices may vary.
Buy Now
or
Shop Local
Enter your zip code below to purchase from an indie close to you.
Description
Saying Yes to Japan examines the history and future of Japan's service sector, exposing structural shortcomings and offering innovative ways to take advantage of the trillion dollar hole in the nation's domestic economy. Revealing analyses of the real estate, finance, health care, and information technology industries are coupled with up-close profiles of entrepreneurs from around the world who successfully use their "outsider" perspectives to answer surprisingly underserved customer needs.
Praise For Saying Yes to Japan…
"From financial services to funeral services, Clark and Kay provide a fascinating tour of important developments in Japan's service economy." Shinsei Bank Vice Chairman Thierry Porté

"…systematically debunks the myth that Japan's economy is a well-oiled machine.." New York Times business writer Ken Belson
Review:
"This book is a must read for anyone who wants to understand and profit from inside opportunities in the world's largest creditor nation." Merrill Lynch Japan Chief Economist Jesper Koll

"A highly enlightening read, full of ideas about how outsiders can make money in the Japanese market in spite of, or perhaps because of, its unique and remarkably closed nature." China Economic Review

"While many observers have written on Japanese business since the 80s to demand reform or to dispense etiquette tips (and yes, sometimes to praise), this truly entrepreneurial book has an eye-opening focus: where to find those profits and how to make them. Bravo." President of Nikkei Business Publications America, Tateki Yamamoto

"Filled with fascinating information about how Japan really works.  Shatters the myth that Japanese business is closed to foreigners, by showing the advantages of being different in a land of conformity." Rochelle Kopp author of The Rice-Paper Ceiling: Breaking Through Japanese Corporate Culture