The Lost Treasure of Talus Scree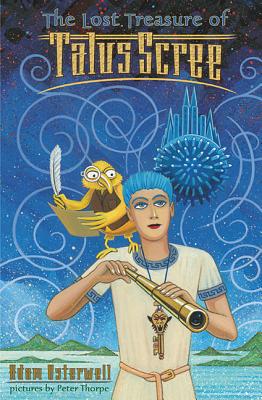 The Lost Treasure of Talus Scree
Front Street, Hardcover, 9781932425307, 152pp.
Publication Date: October 1, 2005
* Individual store prices may vary.
Not Currently Available for Direct Purchase
or
Shop Local
Enter your zip code below to purchase from an indie close to you.
Description
In the land of Talus Scree, magical rocks yield powers to those who use them. Hover rocks allow kids to hover on air as if they were on a skateboard, freeze rocks stop time temporarily, and flavor rocks will cook up a great meal. Good struggles against evil for control of Talus Scree. Kiffin, a blue-haired twelve-year-old, grows up on Misty Island in privilege. While the adults, including his parents, slave away in Prince Mischief's mines and the children go to mining school, Kiffin is free to wander the island and do what he wants. He even has a rare, magical creature that can shape-shift into any animal. When Kiffin finds the key to the Lost Treasure of Talus Scree, he and his friends embark on an adventure to find the treasure and save their world.
About the Author
Adam Osterweil graduated from Cornell University with a BA in classics and from Stony Brook University with an MA in liberal studies. He teaches junior-high English at Springs School in Springs, New York.

Peter Thorpe began drawing and painting at an early age. He studied commercial art at the California College of Arts & Crafts and then moved to New York City, where he worked as an editorial and advertising illustrator. When he discovered that he also had a penchant for type design and layout, he began to specialize in book covers. He has created book covers for over 40 editions of Tony Hillerman's mysteries and the cover for Garrison Keillor's best-selling Lake Wobegon Days. The Amulet of Komondor is the first book for which Peter has created both the cover art and the interior illustrations. It is also the first book for children that he has worked on. Peter lives in Asheville, North Carolina.