Memnon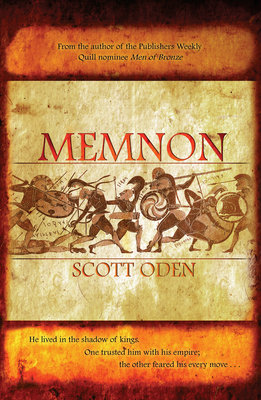 Memnon
Medallion Press, Hardcover, 9781932815399, 503pp.
Publication Date: August 1, 2006
* Individual store prices may vary.
Buy at Local Store
Enter your zip code below to purchase from an indie close to you.
or
Not Currently Available for Direct Purchase
Description
He lived in the shadow of kings. One trusted him with his empire; the other feared his every move...Memnon of Rhodes (375-333 BCE) walked in the footsteps of giants. As a soldier, sailor, statesman, and general, he was, in the words of Diodorus of Sicily, "outstanding in courage and strategic grasp." A contemporary of Demosthenes and Aristotle, Memnon rose from humble origins to command the whole of western Asia in a time of strife and slaughter. To his own people, he was a traitor, to his rivals, a mercenary. But, to the King of Kings, his majesty Darius III of Persia, Memnon was one man capable of defending Asia Minor from the rising power of the barbaric Macedonians. In a war pitting Greek against Greek, Memnon proved his quality beyond measure. His enemies fought for glory and gold; Memnon fought for something more, for loyalty, for honor, and for duty. He fought for the love of Barsine, a woman of remarkable beauty and grace. Most of all, he fought for the promise of peace. Through the deathbed recollections of a mysterious woman, the life of Memnon unfolds with brilliant clarity. It is a record of his triumphs and tragedies, his loves and lossess, and of the determination that drove him to stand against the most renowned figure of the ancient world-the ambitious young conqueror called Alexander the Great.
About the Author
Hailing from the hills of rural North Alabama, Scott Oden started writing at the age of fourteen, though it would be many years before anything would come of it. In the meantime, he had a brief fling with academia before retiring to the private sector, where he worked the usual roster of odd jobs--from delivering pizza to stacking paper at printing company to clerking at a video store. He is currently a full-time writer, and his novels include "The Lion of Cairo."