Where the Line Bleeds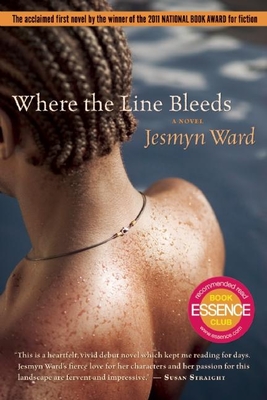 Where the Line Bleeds
Agate Bolden, Paperback, 9781932841381, 241pp.
Publication Date: November 1, 2008
* Individual store prices may vary.
Buy at Local Store
Enter your zip code below to purchase from an indie close to you.
or
Buy Here
Description
Joshua and Christophe are twins, raised by a blind grandmother and a large extended family in a rural town on Mississippi's Gulf Coast. They ve just finished high school and need to find jobs, but in a failing post-Katrina economy, it's not easy. Joshua gets work on the docks, but Christophe's not so lucky. Desperate to alleviate the family's poverty, he starts to sell drugs. He can hide it from his grandmother but not his twin, and the two grow increasingly estranged. Christophe's downward spiral is accelerated first by crack, then by the reappearance of the twins parents: Cille, who abandoned them, and Sandman, a creepy, predatory addict. Sandman taunts Christophe, eventually provoking a shocking confrontation that will ultimately damn or save both twins. Ward inhabits these characters, and this world black Creole, poor, and drug-riddled, yet shored by family and community to a rare degree, without a trace of irony or distance.
About the Author
Jesmyn Ward grew up in DeLisle, Mississippi. She received her BA and MA from Stanford University and her MFA from the University of Michigan, where she received five Hopwood Awards. She was a Stegner Fellow at Stanford University and the John and Renee Grisham Writer in Residence at the University of Mississippi. She is the author of the novels, "Where the Line Bleeds" and "Salvage the Bones"; the memoir, "Men We Reaped"; and the editor of "The Fire This Time". Ward is currently at work on her third novel and is an associate professor of creative writing at Tulane University. She lives in Mississippi.
Praise For Where the Line Bleeds…
"Starkly beautiful debut...A fresh new voice in American literature." Publishers Weekly

"Lushly descriptive prose...with stunning precision. Her prodigious talent and fearless portrayal of a world too often overlooked make her novel a powerful choice for our seventeenth Essence Book Club Recommended Read." Essence

"I feel like I have read the debut work of the next Faulkner, or Capote, or O'Connor, a great Southern writer whom my children might some day read in their college classes." Kenneth Jones, Oxford Eagel

"A richly textured tale...like the best fiction, [it] creates its own world." Susan Larson, New Orleans Times-Picayune

"A resonant novel for any reader." Booklist

"Jesmyn Ward's debut novel immediately sets her apart as a young novelist to watch closely." Daniel Van Mieghem, Literary Fiction Review

"An emotionally honest snapshot of an overlooked America: small-town, economically stagnant and black." William J. Cobb, Dallas Morning News

"A promising debut." Kirkus Reviews

"Ward's beautiful language allows the location and characters to come alive...will appeal to teens who can see themselves here or who are interested in discovering realities far from their own lives." —School Library Journal

"A lyrical yet clear-eyed portrait of a rural South and an African-American reality that are rarely depicted." Anna Mundow, Boston Globe

"The greatest strength of this novel is Ward's ability to capture in perfect nuance the smallest gestures and details of setting in order to bring the world she depicts to life, often through the wordless way in which the characters communicate." Jennifer Deitz, Palo Alto Weekly

"Bursting with life - joyous, loving, frustrated and furious - Where the Line Bleeds marks the forceful debut of an exceptional new talent. Jesmyn Ward's vision is at once searingly honest and sweepingly empathic. Her vibrant portrait of a Mississippi Gulf Coast town is peopled by some of the most movingly, achingly human characters I've encountered in fiction in years." Peter Ho Davies, author of The Welsh Girl

"Jesmyn Ward's debut novel is eloquent in its description of young lives at risk; she's authoritative both when writing of the doomed and prospect of salvation. The lyric gifts displayed in Where The Line Bleeds are very impressive indeed, and the world evokedthe rural south, with its complex web of family devotion and betrayalis vivid from first page to last. A major talent here." Nicholas Delbanco, author of Spring and Fall, and The Count of Concord

"Where the Line Bleeds is a rich, subtle, lyrical novel by an important new writer. Jesmyn Ward writes with a miniaturist's attention to detail, with dazzling elegance and precision, but is unwaveringly compassionate in her exploration of character and place. There is suspense here, along with keen insightthe qualities that keep the pages turning. But there is also poetry, and mysterythe qualities that cause the reader to linger in wonder." Laura Kasischke, author of The Life Before Her Eyes