The Most Beautiful Book in the World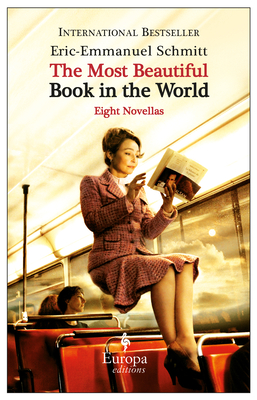 The Most Beautiful Book in the World
Eight Novellas
Europa Editions, Paperback, 9781933372747, 184pp.
Publication Date: June 30, 2009
* Individual store prices may vary.
Not Currently Available for Direct Purchase
or
Shop Local
Enter your zip code below to purchase from an indie close to you.
Description
One of Europe's most popular and best-loved authors, Eric-Emmanuel Schmitt captivates the reader with his spirited, buoyant style and enchanting stories that move effortlessly from the everyday to the fantastical. The eight stories in this collection, his first to be published in English, represent some of his best writing and most imaginative storylines: from the love story between Balthazar, wealthy and successful author, and Odette, cashier at a supermarket, to the tale of a barefooted princess; from the moving story of a group of female prisoners in a Soviet gulag to the entertaining portrait of a perennially disgruntled perfectionist. Here are eight contemporary fables, populated by a cast of extravagant and affecting characters, about people in search of happiness. Behind each story lies a simple, if elusive, truth: happiness is often right in front of our eyes, though we may frequently be blind to it.
About the Author
Normalien et docteur en philosophie, Eric-Emmanuel Schmitt s est d abord fait connaitre au theatre avec "Le Visiteur", devenu un classique du repertoire international. Ses pieces ont ete recompensees par plusieurs Moliere et le Grand Prix du theatre de l Academie francaise. Sa carriere de romancier, initiee par "La Secte des Egoistes", connait un succes international.

J. M. G. Le Clezio, one of France's best-known contemporary writers, was born in Nice in 1940 and has published more than twenty novels and nonfiction works. In the course of the last three decades Le Clezio has won numerous prizes, including the Prix Renaudot for his first novel. His works have been translated into many languages. His most recent works translated into English include the novel "The Prospector" and a collection of essays, "The Mexican Dream," Alison Anderson is the author of "Hidden Latitudes," She has worked as a writer, translator, and teacher and currently lives in Mill Valley, California.