The Man in the Wooden Hat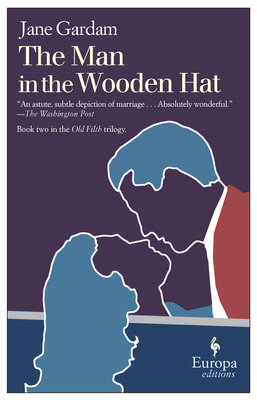 The Man in the Wooden Hat
Europa Editions, Paperback, 9781933372891, 233pp.
Publication Date: October 27, 2009
* Individual store prices may vary.
Buy at Local Store
Enter your zip code below to purchase from an indie close to you.
or
Buy Here
Description
The New York Times called Sir Edward Feathers one of the most memorable characters in modern literature. A lyrical novel that recalls his fully lived life, "Old Filth" has been acclaimed as Jane Gardam's masterpiece, a book where life and art merge. And now that beautiful, haunting novel has been joined by a companion that also bursts with humor and wisdom: "The Man in the Wooden Hat."
"Old Filth" was Eddie's story. "The Man in the Wooden Hat" is the history of his marriage told from the perspective of his wife, Betty, a character as vivid and enchanting as Filth himself.
They met in Hong Kong after the war. Betty had spent the duration in a Japanese internment camp. Filth was already a successful barrister, handsome, fast becoming rich, in need of a wife but unaccustomed to romance. A perfect English couple of the late 1940s.
As a portrait of a marriage, with all the bittersweet secrets and surprising fulfillment of the 50-year union of two remarkable people, the novel is a triumph. "The Man in the Wooden Hat" is fiction of a very high order from a great novelist working at the pinnacle of her considerable power. It will be read and loved and recommended by all the many thousands of readers who found its predecessor, "Old Filth," so compelling and so thoroughly satisfying.
About the Author
A quatre-vingt-deux ans, Jane Gardam est aujourd hui l une des grandes dames de la litterature anglaise. Seule auteur a avoir obtenu deux fois le Whitbread Costa Prize for best noval of the year, elle a ecrit de nombreux romans et cinq volumes de nouvelles.Finaliste du Orange prize, "Le maitre des apparences" est le debut d une trilogie que nous continuerons l annee prochaine avec "Le Choix de Betty" et "L eternel rival".
Wednesday, Dec 23, 2009
Many of the picks from Fresh Air's book critic look back at tough times from earlier eras, or lives upended by disaster. The best books of the year include a work of nonfiction that reveals the hidden fantasy land of a founder of American industry, and a novel that doesn't apologize for the bad behavior of its characters. Plus, a bonus mystery pick. More at NPR.org
Thursday, Oct 22, 2009
Jane Gardam has spent her long career writing dry, honest books about British life. Her new novel, The Man in the Wooden Hat, showcases the regrets of a woman never quite sure that marrying her husband was the right choice. Critic Maureen Corrigan calls Gardam the best British writer you've never heard of. More at NPR.org