Broken Glass Park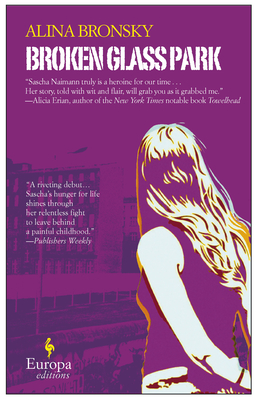 Broken Glass Park
Europa Editions, Paperback, 9781933372969, 221pp.
Publication Date: March 30, 2010
* Individual store prices may vary.
Buy Now
or
Shop Local
Enter your zip code below to purchase from an indie close to you.
Description
"Broken Glass Park" made a remarkable debut when it was published in Germany in 2008. Its author, the twenty-nine-year old Russian-born Alina Bronksy has since been hailed as a wunderkind, an immense talent who has been the subject of constant praise and debate.
The heroine of this enigmatic, razor-sharp, and thoroughly contemporary novel is seventeen- year-old Sacha Naimann, born in Moscow. Sacha lives in Berlin now with her two younger siblings and, until recently, her mother. She is precocious, independent, skeptical and, since her stepfather murdered her mother several months ago, an orphan. Unlike most of her companions, she doesn't dream of getting out the tough housing project where they live. Her dreams are different: she wants to write a novel about her mother; and she wants to end the life of Vadim, the man who murdered her.
What strikes the reader most in this exceptional novel is Sacha's voice: candid, self-confident, mature and childlike at the same time: a voice so like the voices of many of her generation with its characteristic mix of worldliness and innocence, skepticism and enthusiasm. This is Sacha's story and it is as touching as any in recent literature.
Germany's "Freundin Magazine" called "Broken Glass Park" ?a ruthless, entertaining portrayal of life on the margins of society.? But Sacha's story does not remain on the margins; it goes straight to the heart of what it means to be seventeen in these the first years of the new century.