Food Not Lawns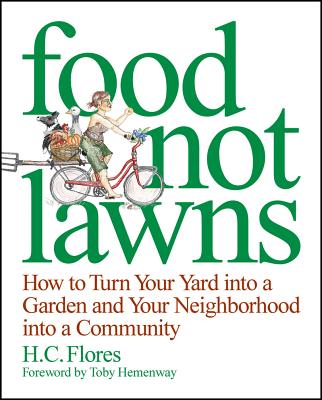 Food Not Lawns
How to Turn Your Yard Into a Garden and Your Neighborhood Into a Community
Chelsea Green Publishing Company, Paperback, 9781933392073, 334pp.
Publication Date: October 15, 2006
* Individual store prices may vary.
Buy at Local Store
Enter your zip code below to purchase from an indie close to you.
or
Buy Here
Description
Gardening can be a political act. Creativity, fulfillment, connection, revolution--it all begins when we get our hands in the dirt.
Food Not Lawns combines practical wisdom on ecological design and community-building with a fresh, green perspective on an age-old subject. Activist and urban gardener Heather Flores shares her nine-step permaculture design to help farmsteaders and city dwellers alike build fertile soil, promote biodiversity, and increase natural habitat in their own "paradise gardens."
But Food Not Lawns doesn't begin and end in the seed bed. This joyful permaculture lifestyle manual inspires readers to apply the principles of the paradise garden--simplicity, resourcefulness, creativity, mindfulness, and community--to all aspects of life. Plant "guerilla gardens" in barren intersections and medians; organize community meals; start a street theater troupe or host a local art swap; free your kitchen from refrigeration and enjoy truly fresh, nourishing foods from your own plot of land; work with children to create garden play spaces.
Flores cares passionately about the damaged state of our environment and the ills of our throwaway society. In Food Not Lawns, she shows us how to reclaim the earth one garden at a time.
About the Author
Toby Hemenway is the author of the first major North American book on permaculture, Gaia s Garden: A Guide to Home-Scale Permaculture. After obtaining a degree in biology from Tufts University, Toby worked for many years as a researcher in genetics and immunology, first in academic laboratories at Harvard and the University of Washington in Seattle, and then at Immunex, a major medical biotech company. At about the time he was growing dissatisfied with the direction biotechnology was taking, he discovered permaculture, a design approach based on ecological principles that creates sustainable landscapes, homes, and workplaces. A career change followed, and Toby and his wife spent ten years creating a rural permaculture site in southern Oregon. He was associate editor of Permaculture Activist, a journal of ecological design and sustainable culture, from 1999 to 2004. He teaches permaculture and consults and lectures on ecological design throughout the country. His writing has appeared in magazines such as Whole Earth Review, Natural Home, and Kitchen Gardener. He is available for workshops, lectures, and consulting in ecological design.
He lives in Sebastopol, California.
Visit his web site at www.patternliteracy.com