A Religious Orgy in Tennessee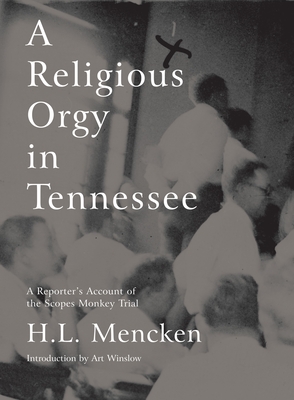 A Religious Orgy in Tennessee
A Reporter's Account of the Scopes Monkey Trial
Melville House Publishing, Paperback, 9781933633176, 206pp.
Publication Date: September 1, 2006
* Individual store prices may vary.
Buy at Local Store
Enter your zip code below to purchase from an indie close to you.
or
Buy Here
Description
"The native American Voltaire, the enemy of all puritans, the heretic in the Sunday school, the one-man demolition crew of the genteel tradition."
—Alistair Cooke

Fiercely intelligent, scathingly honest, and hysterically funny, H.L. Mencken's coverage of the Scopes Monkey Trial so galvanized the nation that it eventually inspired a Broadway play and the classic Hollywood movie Inherit the Wind.

Mencken' s no-nonsense sensibility is still exciting: his perceptive rendering of the courtroom drama; his piercing portrayals of key figures Scopes, Clarence Darrow, and William Jennings Bryan; his ferocious take on the fundamentalist culture surrounding it all—including a raucous midnight trip into the woods to witness a secret "holy roller" service.

Shockingly, these reports have never been gathered together into a book of their own—until now.

A Religious Orgy In Tennessee includes all of Mencken's reports for The Baltimore Sun, The Nation, and The American Mercury. It even includes his coverage of Bryan's death just days after the trial—an obituary so withering Mencken was forced by his editors to rewrite it, angering him and leading him to rewrite it yet again in a third version even less forgiving than the first. All three versions are included, as is a complete transcript of the trial's most legendary exchange: Darrow's blistering cross-examination of Bryan.

With the rise of "intelligent design," H.L. Mencken' s work has never seemed more unnervingly timely—or timeless.
About the Author
Henry Louis "H. L." Mencken (September 12, 1880 - January 29, 1956) was an American journalist, satirist, cultural critic and scholar of American English. Known as the "Sage of Baltimore," he is regarded as one of the most influential American writers and prose stylists of the first half of the twentieth century. As a scholar Mencken is known for The American Language, a multi-volume study of how the English language is spoken in the United States. His satirical reporting on the Scopes trial, which he dubbed the "Monkey Trial," also earned him notoriety. He commented widely on the social scene, literature, music, prominent politicians and contemporary movements. As an admirer of German philosopher Friedrich Nietzsche, he was a detractor of religion, populism and representative democracy, which he believed was a system in which inferior men dominated their superiors. Mencken was a supporter of scientific progress, skeptical of economic theories and critical of osteopathic/chiropractic medicine. During and after World War I, he was sympathetic to the Germans, and was very distrustful of British propaganda. Though he deemed Adolf Hitler and his followers "ignorant thugs," he had strong reservations about American participation in World War II. Mencken, through his wide criticism of actions taken by government, had a strong impact on the American left and the American libertarian movement. Mencken's longtime home in the Union Square neighborhood of West Baltimore has been turned into a city museum, the H. L. Mencken House. His papers were distributed among various city and university libraries, with the largest collection held in the Mencken Room at the central branch of Baltimore's Enoch Pratt Free Library.