A Religious Orgy in Tennessee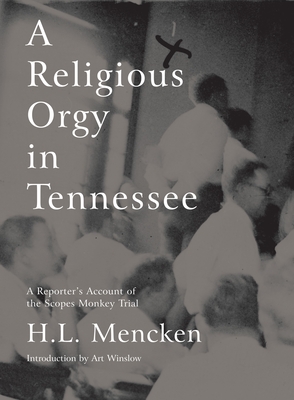 A Religious Orgy in Tennessee
A Reporter's Account of the Scopes Monkey Trial
Melville House Publishing, Paperback, 9781933633176, 206pp.
Publication Date: September 1, 2006
* Individual store prices may vary.
Buy at Local Store
Enter your zip code below to purchase from an indie close to you.
or
Buy Here
Description
"The native American Voltaire, the enemy of all puritans, the heretic in the Sunday school, the one-man demolition crew of the genteel tradition."
--Alistair Cooke
Fiercely intelligent, scathingly honest, and hysterically funny, H.L. Mencken's coverage of the Scopes Monkey Trial so galvanized the nation that it eventually inspired a Broadway play and the classic Hollywood movie Inherit the Wind.
Mencken's no-nonsense sensibility is still exciting: his perceptive rendering of the courtroom drama; his piercing portrayals of key figures Scopes, Clarence Darrow, and William Jennings Bryan; his ferocious take on the fundamentalist culture surrounding it all--including a raucous midnight trip into the woods to witness a secret "holy roller" service.
Shockingly, these reports have never been gathered together into a book of their own--until now.
A Religious Orgy In Tennessee includes all of Mencken's reports for The Baltimore Sun, The Nation, and The American Mercury. It even includes his coverage of Bryan's death just days after the trial--an obituary so withering Mencken was forced by his editors to rewrite it, angering him and leading him to rewrite it yet again in a third version even less forgiving than the first. All three versions are included, as is a complete transcript of the trial's most legendary exchange: Darrow's blistering cross-examination of Bryan.
With the rise of "intelligent design," H.L. Mencken's work has never seemed more unnervingly timely--or timeless.
About the Author
H.L. Mencken is one of American history's foremost journalists. Writing from the turn of the century until the late 1940's for the Baltimore Sun newspaper, he was known for a savage wit, an erudite if salty language, and an iconoclastic outlook that saw through politicians and fads with fearless abandon. He died in 1956. Editor Art Winslow writes frequently for the Los Angeles Times, Chicago Tribune, and Bookforum, and was, for many years, Literary Editor and Executive Editor of The Nation.