Shoplifting from American Apparel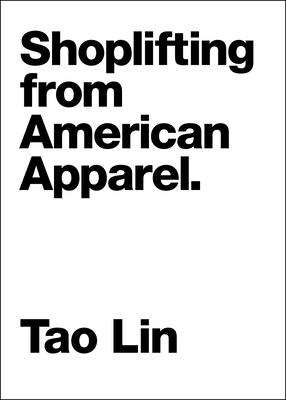 Shoplifting from American Apparel
Melville House Publishing, Paperback, 9781933633787, 103pp.
Publication Date: September 15, 2009
* Individual store prices may vary.
Not Currently Available for Direct Purchase
or
Shop Local
Enter your zip code below to purchase from an indie close to you.
Description
The inmate with a mop held back the inmate without a mop.
Set mostly in Manhattan although also featuring Atlantic City, Brooklyn, GMail Chat, and Gainsville, Florida this autobiographical novella, spanning two years in the life of a young writer with a cultish following, has been described by the author as A shoplifting book about vague relationships, 2 parts shoplifting arrest, 5 parts vague relationship issues, and An ultimately life-affirming book about how the unidirectional nature of time renders everything beautiful and sad.
From VIP rooms in hip New York City clubs to central booking in Chinatown, from New York University's Bobst Library to a bus in someone's backyard in a college-town in Florida, from Bret Easton Ellis to Lorrie Moore, and from Moby to Ghost Mice, it explores class, culture, and the arts in all their American forms through the funny, journalistic, and existentially-minded narrative of someone trying to both not be a bad person and find some kind of happiness or something, while he is driven by his failures and successes at managing his art, morals, finances, relationships, loneliness, confusion, boredom, future, and depression.
About the Author
Tao Lin (1983-) is an American poet, novelist and short-story writer. You Are a Little Bit Happier than I amHe is the author of a novel, Eeeee Eee Eeee, and a story collection, Bed, which were published simultaneously by Melville House Publishing in May of 2007. He is also the author of two poetry collections, you are a little bit happier than i am, which won Action Books' December Prize in 2005 and was published in November of 2006; and cognitive-behavioral therapy, which was published in May, 2008. A chapbook of poetry, this emotion was a little e-book, and a chapbook of stories, Today the Sky is Blue and White with Bright Blue Spots and a Small Pale Moon and I Will Destroy Our Relationship Today, were published by the Internet press Bear Parade in 2006. His forthcoming books include a novella, Shoplifting from American Apparel, to be published September, 2009, and his second novel, Richard Yates, to be published early in 2010. Both books will be published by Melville House Publishing. Lin's work has appeared in literary journals and magazines such as NOON, Nerve, Vice, Esquire, The Stranger, 3: AM Magazine, The Mississippi Review, Bear Parade, The Cincinnati Review, Other Voices, Fourteen Hills, and Opium Magazine. He is the founding editor of Muumuu House, publishing gmail chats, poetry, fiction, and nonfiction, both online and in print. Lin is also a co-editor of the literary press Ass Hi Books with Ellen Kennedy.
Praise For Shoplifting from American Apparel…
Praise for Tao Lin's Shoplifting From American Apparel

"Tao Lin writes from moods that less radical writers would let pass—from laziness, from vacancy, from boredom. And it turns out that his report from these places is moving and necessary, not to mention frequently hilarious."
—Miranda July, author of No One Belongs Here More Than You

"A humorous reflection on the instantaneity of Internet-era life and relationships…. The writing stays fresh, thanks to occasional oddball dialogue about everything from Oscar Wilde to what exactly constitutes a fight with a girlfriend. And for all his meandering prose, there's something charming about Lin's directness. Writing about being an artist makes most contemporary artists self-conscious, squeamish and arch. Lin, however, appears to be comfortable, even earnest, when his characters try to describe their aspirations (or their shortcomings)…. Purposefully raw."
—Time Out New York

"Lin's candid exploration of Sam's Web existence (and by extension, his own) is full of melancholy, tension, and hilarity… Lin is a master of pinpointing the ways in which the Internet and text messages can quell loneliness, while acknowledging that these faceless forms of communication probably created that loneliness to begin with."
—The Boston Phoenix

"Somehow both stilted and confessional…. often funny…. Lin is doing his best to capture a mid-twenties malaise, a droning urban existence that—in the hands of a mildly depressed narrator—never peaks nor pitches enough to warrant drama. In a way, it makes more sense to think of Tao Lin as a painter or performance artist; his work attempts to evoke through persistent, dull-edged provocation."
—Time Out Chicago

"Uniquely sad, funny, and understated in all the right ways. In his most autobiographical work yet, Tao Lin has once again created a book that will polarize ctitics, but reward his fans."
—largehearted boy

"A revolutionary."
—The Stranger (Seattle)

"Prodigal, unpredictable."
—Paste Magazine

"Trancelike and often hilarious… Lin's writing is reminiscent of early Douglas Coupland, or early Bret Easton Ellis, but there is also something going on here that is more profoundly peculiar, even Beckettian…deliciously odd."
—The Guardian

"You don't think, 'I like this guy,' or 'I really dislike this guy.' You think, 'huh.' [...] Camus' The Stranger or 'sociopath?'"
—Los Angeles Times

"Tao Lin's sly, forlorn, deadpan humor jumps off the page. […] will delight fans of everyone from Mark Twain to Michelle Tea."
—San Francisco Chronicle

"Scathingly funny for being so spare […] just might be the future of literature."
—Austin Chronicle

"Somehow both the funniest and the saddest book I've read in a long time."
—Michael Schaub, Bookslut

"The purest example so far of the minimalist aesthetic as it used to be enunciated."
—Michael Silverblatt, KCRW's Bookworm

"A fragile, elusive little book."
—Village Voice

Very funny."
—USA Today

"Loved it. [...] Shoplifting From American Apparel stands out. And maybe it's similar, if stylistically opposite, from We Did Porn in this way. Both books are necessary, written for people who don' t have many books to choose from. They're not competing with the rest of the books on the shelf. They're on a different shelf where there aren't too many books.On that same shelf you'll find Ask The Dust, Frisk, The Fuck Up, The Basketball Diaries, Jesus Son, several books by Michelle Tea, Last Exit to Brooklyn, and Chelsea Girls. It's a good shelf to be on, I think. Young, urban, self-sure, engaged. The audience is small but they'll take you in; they're looking to connect."
—Stephen Elliott, author of Happy Baby and The Adderall Diaries