The Hollywood Economist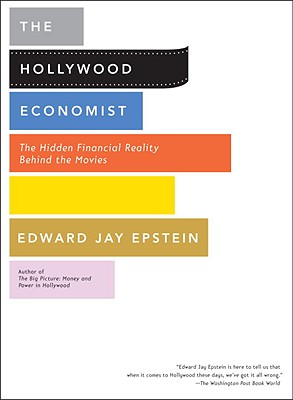 The Hollywood Economist
The Hidden Financial Reality Behind the Movies
Melville House, Paperback, 9781933633848, 240pp.
Publication Date: February 23, 2010
* Individual store prices may vary.
Buy at Local Store
Enter your zip code below to purchase from an indie close to you.
or
Not Currently Available for Direct Purchase
Description
In a Freakonomics meets Hollywood saga, veteran investigative reporter Edward Jay Epstein goes undercover to explore Hollywood's "invisible money machine," probing the dazzlingly complicated finances behind the hits and the flops, while he answers the surprisingly puzzling question: How do the studios make their money?

Along the way we also learn much about star system and what makes the business tick:

+ What it costs to insure Nicole Kidman's right knee ...

+ How and why the studios harvest silver from old film prints ...

+ Why stars do—or don't do—their own stunts ...

+ Why Arnold Schwarzenegger is considered a contract genius ...

+ How Hollywood goes about doping outside investors and hedge fund managers ...

+ Why Lara Croft: Tomb Raider is considered a "masterpiece" of financing ...

About the Author
Edward Jay Epstein, who wrote the "Hollywood Economist" column for "Slate," is the author of "The Big Picture: Money and Power in Hollywood," as well as many other books. He writes frequently for the "Wall Street Journal, ""Vanity Fair," and "The New Yorker," and he lives in New York City. His website is edwardjayepstein.com
Praise For The Hollywood Economist…
PRAISE FOR THE HOLLYWOOD ECONOMIST

"The answer to [the] mysteries of modern-day film financing can be found in The Hollywood Economist, Edward Jay Epstein's latest foray into the seamy underbelly of Hollywood spreadsheets."
—The Wall Street Journal

"[A] terrific job.... There's fun to be had in knowing specifics, and Epstein
 offers plenty."
—Entertainment Weekly

"Mr Epstein tells some good stories."
—The Economist

PRAISE FOR EDWARD JAY EPSTEIN'S THE BIG PICTURE

"A rich adventure that will change the way you look at movies."
—BusinessWeek

"Edward Jay Epstein is here to tell us that when it comes to Hollywood these days, we've got it all wrong."
—The Washington Post Book World

"One of the virtues of The Big Picture is Mr. Epstein's astonishing access to numbers that movie studios go to great lengths to keep secret....A groundbreaking work that explains the inner workings of the game."
—The Wall Street Journal

"Hollywood has needed one of these for a long time--a user's manuel. This one could not be more complete....[Grade] A."
—Entertainment Weekly
Thursday, Apr 1, 2010
How do Hollywood studios make money? Journalist Edward Jay Epstein goes looking for answers in The Hollywood Economist, explaining the complicated relationship between distributors and studios — and revealing why the humble cup holder may be the greatest technological advancement in the history of Hollywood. More at NPR.org