Wolf Among Wolves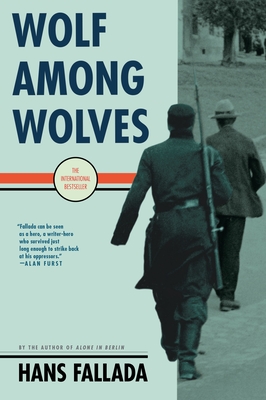 Wolf Among Wolves
Melville House Publishing, Paperback, 9781933633923, 793pp.
Publication Date: May 25, 2010
* Individual store prices may vary.
Buy at Local Store
Enter your zip code below to purchase from an indie close to you.
or
Not Currently Available for Direct Purchase
Description
This sweeping saga of love in dangerous times - the 1923 collapse of the German economy, when food and money shortages led to rioting in the streets and unemployed soldiers marauding through the countryside --is deemed by many to be Hans Fallada's greatest work. Yet its 1938 publication made his publisher so fearful of Nazi retribution that he told Fallada, "If this book destroys us, then at least we'll be destroyed for something that's worth it."
It appears here in its first unabridged translation into English, based on a contemporaneous translation by Philip Owens that has been revised and restored by Thorsten Carstensen and Nicholas Jacobs. Carstensen also provides an afterword discussing why the original version of the book was so heavily edited ... and why Fallada's publisher thought a love story might get them killed.
***
This is a Hybrid Book.
Melville House HybridBooks combine print and digital media into an enhanced reading experience by including with each title additional curated material called Illuminations -- maps, photographs, illustrations, and further writing about the author and the book. The Melville House Illuminations are free with the purchase of any title in the HybridBook series, no matter the format.
About the Author
Hans Fallada was an internationally bestselling German writer who, unlike his peers Mann and Brecht, remained in Germany after the Nazi take-over. After one of his books was made into a Hollywood movie with a Jewish producer, he was prevented from publishing abroad. At war's end he was incarcerated in an insane asylum, and died soon thereafter.




Praise For Wolf Among Wolves…
"The ideal summer read."
—Katherine Powers, The Boston Globe 
 
"An unmissably brilliant portrait of Berlin before the Nazis."
—The Times of London

"Outstanding… his novels, whatever their ultimate position in the literary rankings, are simply much more entertaining than the tomes produced by the usual German suspects, Mann, Hesse, Grass, Böll….if you fancy a book to take you right through your holidays and any possible delays at the airport, you couldn't do better than Wolf Among Wolves."
—Tibor Fischer, Telegraph (UK)
 
"His most ambitious novel... deeply moving... he has evoked more than one can bear, but not more than it is necessary to learn, to keep and to understand."
—Alfred Kazin, The New York Times (1938) 
 
"Fallada handles [the characters] not morbidly but with a Hogarthian exuberance and a tough humor, infusing into even those dying spirits the life of his copious imagination... Fallada's best book."
—The New Yorker (1938)

"What other living German novelist shares with Fallada the power to grip the reader on the first page and hold him unremittingly through 1100 more?"
—Bayard Q. Morgan, World Literature Today (1938) 

"Out of the multitude of episodes and a large cast of characters, the picture of post-War Germany during the terror of the inflation period, comes into reality, as in almost no other book we have had... A human document--and a moving picture of a Germany gone mad."
—Kirkus Reviews
 
Praise for Hans Fallada
"Fallada can be seen as a hero, a writer-hero who survived just long enough to strike back at his oppressors."
—Alan Furst
 
"Fallada deserves high praise for having reported realistically, so truthfully, with such closeness to life." 
—Herman Hesse