Little Zizi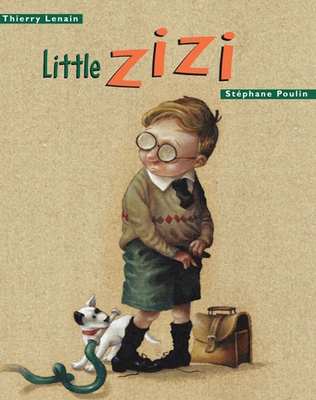 Little Zizi
Cinco Puntos Press, Hardcover, 9781933693057, 32pp.
Publication Date: April 1, 2008
* Individual store prices may vary.
Not Currently Available for Direct Purchase
or
Shop Local
Enter your zip code below to purchase from an indie close to you.
Description
"Like all boys, Martin had a peepee, and this peepee didn t cause him any problems. Of course, from time to time, Martin worried a little. He wondered if one day his peepee would look like his dad's peepee. But that's normal, all boys wonder about that. So, everything was going quite well."
That is, everything was going well until one day in the locker room the big bully Adrian started making fun of Martin's peepee in front of everybody Poor Martin. And to make matters worse, Martin and the bully both wanted to be the boyfriend of Anais, the prettiest girl in school. Push came to shove, and the boys decided to have a pissing contest. So how does our story end? Is it true that in the littlest of packages come the greatest gifts? Thierry Lenain's jolly text is joined happily with Stephane Poulin's exquisite but hilarious illustrations to make this a wonderful book for parents and children to share and enjoy together.
Thierry Lenain taught handicapped children before becoming a writer. He has published more than fifty children's books in Europe. In 1992, he became editor of "Citrouille," a magazine about children's literature. He has three children, and, after eighteen years at the foot of the mountains, he has moved to the edge of the sea.
Stephane Poulin is a Canadian author and illustrator. He's been drawing passionately since he was a kid. He has published over one hundred books in North America and Canada and has won many international prizes.
Daniel Zolinski is a photographer who is currently working on a collection of photographs that traces Odysseus journey home from the Trojan War.
About the Author
Thierry Lenain taught handicapped children before becoming writer. He has published more than fifty children's books in Europe. In 1992, he became editor of Citrouille (a magazine about children's literature). He has three children, and after 18 years at the foot of the mountains, he moved to the edge of the ocean, with which he is in love.

StEphane Poulin


Praise For Little Zizi…
"The frankness and humor with which author and illustrator address [the subject] will draw a&helllip;swelling audience." —Kirkus Reviews

"Wry but always empathic, Lenain brings a novelistic depth to a story that could easily have been little more than an adult's cheap jokeespecially given that the pivotal event is a peeing contest…Whether or not little boys care so much about the size and procreative powers of their zizis is debatable, but for sheer storytelling talent, there's no doubt: Lenain and Poulin are definitely well endowed." —Publisher's Weekly

"Little Zizi is a unique children's picturebook that dares to address a part of growing up that virtually no other children's literature will touch…Enthusiastically recommended, especially for mothers and fathers to share with their sons when teaching them the facts of life." —Midwest Book Review

"Little Zizi is a treasure of a book that teaches and encourages young boys to be comfortable with their bodies and genitalia…After all the bullying children, both boys and girls, inevitably face, Martin learns a valuable lesson in both self confidence and friendship." —Review of Texas Books