This Thing Called the Future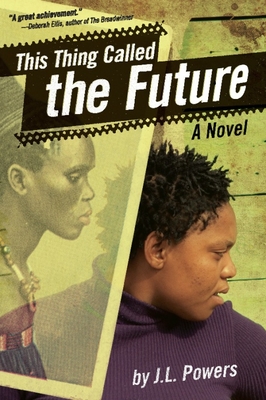 This Thing Called the Future
Cinco Puntos Press, Hardcover, 9781933693958, 208pp.
Publication Date: April 12, 2011
* Individual store prices may vary.
Buy Now
or
Shop Local
Enter your zip code below to purchase from an indie close to you.
Description
AIDS and South Africa. Khosi, a 14-year-old girl, yearns for this thing called the future. Does she want too much?
Praise For This Thing Called the Future…
"This novel offers an intimate glimpse into the challenges of being a contemporary teenage girl in South Africa."—Chicago Tribune

"This novel takes a loving, clear-eyed look at the clash of old and new through the experience of one appealing teenager A compassionate and moving window on a harsh world." —Kirkus Reviews

" a compelling, often harrowing portrait of a struggling country, where old beliefs and rituals still have power, but can't erase the problems of the present. Readers will be fully invested in Khosi's efforts to secure a better future." —Publishers Weekly

"This is a fascinating glimpse into a worldview that, while foreign to many readers, is made plausible through Khosi's practical and conflicted perspective."—The Bulletin of the Center for Children's Books, starred review

"Despite pervasive HIV and the specter of rape, as well as the restrictions on girls' freedom that are her society's only response, Khosi manages to find her power, refuse to be a victim, and carve out a future for herself that embraces both the modern and the traditional."—The Horn Book Magazine

"This is a powerfully gripping, eye-opening novel that doesn't pull any punches, and readers will long remember Khosi and the trials and tribulations facing South Africans as they venture forth into the modern world while desperately holding onto their heritage."—School Library Journal

"…the tense story builds skillfully to an anguished revelation readers will want to discuss."—Booklist

"Magic and science are woven together in this often stark story of AIDS and unrelenting poverty."—VOYA

"This is a poignant story about a young woman struggling to ensure her family's security although many factors are working against them."—Children's Literature

"Powers seamlessly combines contemporary realism with the supernatural in this powerful and singular novel."—Timesunion.com

"Khosi's story is not only an everywoman story of a girl growing up, it is an allegory of all the many challenges facing South Africa and its people.
"—OutSmart Magazine

"Bright and responsible, Khosi is growing up with her mother, grandmother and younger sister in a community devastated by AIDS and gangsters. She's torn between traditional beliefs and modern ambitionsand Powers, writing her second novel, makes it clear that Khosi's circumstances permit no facile answers."—Stanford Alumni Magazine

"This Thing Called the Future may deal with bleak topics, but there is hope and triumph, too. As Khosi looks toward that mysterious thing called the future, she believes she can make hers beautiful despite the sorrow around her."—Christian Science Monitor

"Khosi's heartbreaking and redemptive coming-of-age story compels us to face the demons within cultural superstitions and choose a future that can be changed."—Ann Angel, author of Janis Joplin:Rise Up Singing

"In a literary landscape cluttered with the imagined powers of the paranormal, This Thing Called the Future introduces us to the reality that supernatural strength exists here and now. Gripping, honest, and eye-opening, this book will change the way you see the world."—Emily Wing Smith, author of The Way He Lived and Back When You Were Easier to Love

"J.L. Powers takes the challenges and sorrows of contemporary South Africa and renders them powerfully immediate in the character of Khosi, a girl negotiating coming of age in her post-apartheid, AIDS-ravaged country. Provocative, unvarnished, loving." —Sarah Ellis, author of Odd Man Out and The Several Lives of Orphan Jack

"Basing her story on detailed research, Powers gets into the shoes of her imagined protagonist and sensitively explores her perceptions. This is a wonderful book with which to think about contemporary South Africa - about the trials of everyday life, about dreams, witchcraft, physical danger, adolescent love, and not least about ambition."—William Beinart, author of Twentieth-Century South Africa

"A fascinating look at life in a shanty town in present day South Africa."—The 4:00 Book Hook

"…the research J.L. Powers did is evident in every detail.This book offers a daunting, sincere, and profoundly human view of what's happening on the other side of the globe." —Teen Voices