The Complete Quincy Jones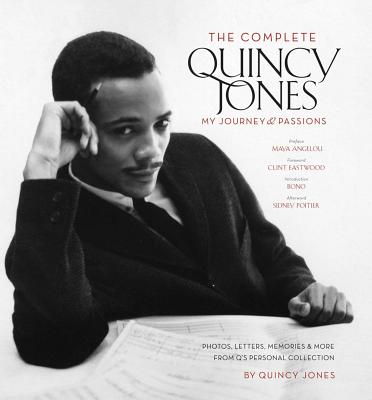 The Complete Quincy Jones
My Journey & Passions
Insight Editions, Hardcover, 9781933784670, 141pp.
Publication Date: November 11, 2008
* Individual store prices may vary.
Not Currently Available for Direct Purchase
or
Shop Local
Enter your zip code below to purchase from an indie close to you.
Description
Everything you love about American popular culture is Quincy Jones. As an artist and impresario Quincy Jones has been the creative catalyst for over 50 years of American cultural phenomena orchestrating the sounds of Frank Sinatra, setting the ambiance for Steven Spielberg, cultivating the talent of Michael Jackson, and introducing the world Oprah Winfrey and Will Smith--to name a few. The Complete Quincy Jones examines the diverse virtuosity of Quincy Jones, celebrating his prolific contribution to American art and culture. Comprised of personal interviews and recollections with Jones, this collection peers behind the veil of
celebrity, with extraordinary access to his creative inspirations and labors. Through private notebooks, correspondence, and photographs Jones offers unprecedented introspection into the depths of his creativity and the histories of his ventures. From the volumes of his memorabilia, Jones emerges as a contemplative and dynamic maestro, thriving on intuition and ceaselessly pursuing the soul of his art.
About the Author
QUINCY JONES's most recent major award is the Thurgood Marshall Lifetime Achievement Award from the NAACP Legal Defense Fund; his most recent release is From Q with Love. He lives in Los Angeles, California.
"From the Hardcover edition."
Sidney Poitier was the first black actor to win the Academy Award for best actor for his outstanding performance in Lilies of the Field in 1963. His landmark films include The Defiant Ones, A Patch of Blue, Guess Who's Coming to Dinner, and To Sir, With Love. He has starred in over forty films, directed nine, and written four. He is the author of two autobiographies: This Life and the "Oprah's Book Club" pick and New York Times bestseller The Measure of a Man. Among many other accolades, Poitier has been awarded the Screen Actors Guild's highest honor, the Life Achievement Award, for an outstanding career and humanitarian accomplishment. He is married, has six daughters, four grandchildren, and one great-granddaughter.
Quincy Delight Jones, Jr., known to his friends as "Q," is the most prolific individual music producer and creative force in American popular culture. He is the visionary behind Thriller and Michael Jackson's solo career, the compositional master of more than 33 film scores, the patron producer of Oprah Winfrey and Will Smith, the founder and CEO of Qwest Records and Broadcasting, a platinum selling musician, and the all time Grammy nominee. As a paragon humanitarian he was the major supporter of Dr. Martin Luther King, Jr.'s Operation Breadbasket, a founding member of the Institute for Black American Music and the Black Arts Festival, and is creator of the Quincy Jones Listen Up Foundation, which works to build homes in Africa and educate children in global conflict zones. Jones currently resides in Los Angeles and at the age of 74 works tirelessly as a versatile performer, producer, philanthropist, and impresario. Quincy Jones' talents are legendary, his compassion universal, and his life too much for words.
Preface by Maya Angelou
Foreword by Clint Eastwood
Introduction by Bono