The Words of War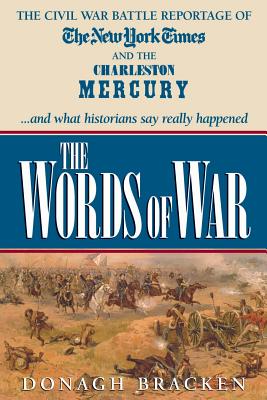 The Words of War
The Civil War Battle Reportage of the New York Times and the Charleston Mercury... and What Historians Say Really Happ
History Publishing Co LLC, Hardcover, 9781933909325, 314pp.
Publication Date: April 1, 2007
* Individual store prices may vary.
Buy at Local Store
Enter your zip code below to purchase from an indie close to you.
or
Not Currently Available for Direct Purchase
Description
As the divided nation threw its sons into civil war, the home front demanded to know what was happening. Newspapers, North and South, responded by sending special war correspondents into the battlefront with the armies and navies of the Union and Confederacy. They reported what they saw and, in many instances, what they wanted to see. Thus was born American journalism as we know it today. In the North, "The New York Times'" correspondents accompanied the armies of Grant, Sherman, McClellan and other general officers and admirals in the Eastern and Western Theaters. The writings of "Time's" correspondents Franc Wilkie, L.L.Crounse and many others set the structural standard for American war correspondence as we know it today. In the South, newspapers wrote with greater passion. Chief among the passion providers was the "Charleston Mercury, " the spark plug for Southern secession and the arch opposite of "The New York Times." The writings of Robert Barnwell Rhett. Sr. and Jr. and George William Bagby writing as Hermes, brought a blood rush to their readers as they bore their witness to the Civil War. Placed in juxtaposition, the two newspapers capture not only the flavor of the time but also the fever of war. The modern reader can see, as each paper reports the same battle, how political belief alters the view of reality.
About the Author
Donagh Bracken edited and arranged for publication the American Civil War Historycope Series, a visualization of the 384 major battles of the Civil War as determined by the Civil War Sites Preservation Committee authorized by the U.S. Congress in 1993. The Series was designed for advanced classroom study. He is a writer of long standing, having written for major newspapers and trade magazines on subjects such as history, economics and government. He is a graduate of Manhattan College.