The Sojourn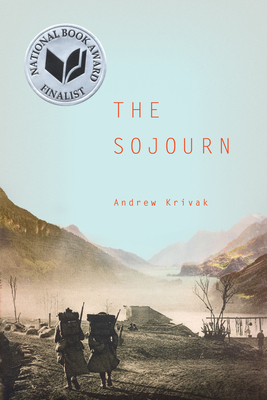 The Sojourn
Bellevue Literary Press, Paperback, 9781934137345, 191pp.
Publication Date: April 2011
* Individual store prices may vary.
Shop Local
Enter your zip code below to find indies closest to you.
Description
A stunning debut novel of brutality and survival on the Southern Front of World War I.
About the Author
Andrew Krivak earned degrees from St. John's College (Annapolis) and the graduate writing division of Columbia University before entering the Society of Jesus. His writing has appeared in "The New York Times," "DoubleTake," and elsewhere. He lives in London.
Praise For The Sojourn…
DAYTON LITERARY PEACE PRIZE WINNER
CHAUTAUQUA PRIZE WINNER
NATIONAL BOOK AWARD FINALIST
WASHINGTON POST Notable Book of the Year
NATIONAL PUBLIC RADIO Top 5 Book Club Pick


"Splendid . . . a novel for anyone who has a sharp eye and ear for life." —NPR All Things Considered
"[A] powerful, assured first novel . . . Packed with violence and death, yet wonderfully serene in its tone, Andrew Krivak's The Sojourn—shortlisted for this year's National Book Award—reminds us that one never knows from where the blow will fall and that, always, in the midst of life we are in death. . . . If the early pages of The Sojourn sometimes recall Cormac McCarthy (especially The Crossing), the heart of the book is a harrowing portrait of men at war, as powerful as Ernst Junger's classic Storm of Steel and Isaac Babel's brutally poetic Red Cavalry stories." —Washington Post
"Surging in pace and momentum, The Sojourn is a deeply affecting narrative conjured by the rhythms of Krivak's superb and sinuous prose. Intimate and keenly observed, it is a war story, love story, and coming of age novel all rolled into one. I thought of Lermontov and Stendhal, Joseph Roth, and Cormac McCarthy as I read. But make no mistake. Krivak's voice and sense of drama are entirely his own." —Sebastian Smee of the Boston Globe
"Novels set during World War I (think of The English Patient or A Long Long Way) possess a desolation, violence and a desperate longing to go back, to return to life as it was lived before the war. . . . [The Sojourn] is an ever-hopeful series of fresh starts and dashed hopes, a beautiful tale of persistence and dogged survival, set in the mountains, villages and battlefields of a Europe that exists only in memories and stories." —Los Angeles Times
"A captivating, thoughtful narrative . . . and poignant reminder of how humanity was so greatly affected by what was once called the war to end all wars." —Minneapolis Star Tribune
"[The Sojourn] can be read as a classic of war. It is beautifully plotted, as rapt and understated as a hymn. . . . [Krivak] writes hunting scenes as evocative as those in The Deer Hunter. Then he outstrips that film in rending the harrowing and seductive elements of war." —Cleveland Plain Dealer
"[The Sojourn] deserves to be placed on the same shelf as Remarque, Hemingway and Heller . . . Krivak has written an anti-war novel with all the heat of a just-fired artillery gun." —Barnes and Noble Review/ Christian Science Monitor
"Hope for the future, the conversion of tragedy into meaning—lurks throughout The Sojourn's lush and lyrical prose." —IMAGE: Art, Faith, Mystery
"An engrossing narrative that goes beyond a war novel into a character study of loss and redemption." —Rain Taxi Review of Books
"Krivak writes of war with the skill of a mature novelist/observer. Death, dysentery, starvation, chaos, amputation, prison. All are here in elegant prose—plus touches of rare beauty and tenderness as Jozef comes full circle with is past, his father, his country—even the idea of his father's reverse migration. All of this in less than two hundred pages." —CounterPunch
"Unsentimental yet elegant . . . with ease, [The Sojourn] joins the ranks of other significant works of fiction portraying World War I—Erich Maria Remarque's All Quiet on the Western Front or Ernest Hemingway's A Farewell to Arms." —Library Journal (starred review)
"The ghost of Hemingway informs some of Krivak's notes from the front lines, while several other literary influences seem to be evident in his slender book, including the Italian novelist and memoirist Primo Levi, himself the veteran of a very long walk through Europe, and, for obvious reasons, the Charles Frazier of Cold Mountain. Yet Krivak has his own voice, given to lyrical observations on the nature of human existence." —Kirkus Reviews (starred review)
"Deftly wrought, quietly told . . . Krivak studied all the Great War novels before writing, and the result is a debut novel at home amongst those classics. Highly recommended." —Historical Novels Review (Editor's Choice)
"Rendered in spare, elegant prose, yet rich in authentic detail, The Sojourn . . . stands with the most memorable stories about World War I. Krivak's tale has an archetypal quality; it is a retelling of the hero's inner and outer journey through impossibly rugged landscapes, toward survival and wholeness." —ForeWord Reviews
"Inspired by oral histories of the "ol' kawntree" passed on by his Slovakian grandmother, Krivak, who once dreamed of a career in music and spent eight years in a Jesuit order, has crafted a novel of uncommon lyricism and moral ambiguity that balances the spare with the expansive. He juxtaposes the brutality of Jozef's environment, both natural and human, during his childhood in the Carpathians and his military service on the Italian front and after with the beauty of mountain vistas and moments of love, sacrifice, and compassion between his finely drawn characters." —The Chautauqua Prize committee
"The Sojourn is a work of uncommon strength by a writer of rare and powerful elegance about a war, now lost to living memory, that echoes in headlines of international strife to this day." —Mary Doria Russell, author of Doc and The Sparrow
"The Sojourn is a fiercely wrought novel, populated by characters who lead harsh, even brutal lives, which Krivak renders with impressive restraint, devoid of embellishment or sentimentality. And yet—almost despite such a stoic prose style—his sentences accrue and swell and ultimately break over a reader like water: they are that supple and bracing and shining." —Leah Hager Cohen, author of House Lights