The Body Politic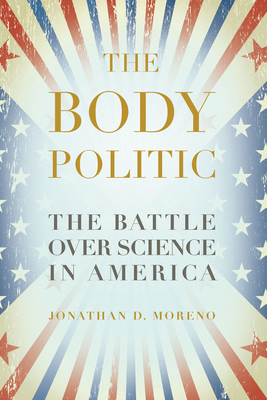 The Body Politic
The Battle Over Science in America
Bellevue Literary Press, Paperback, 9781934137383, 207pp.
Publication Date: October 11, 2011
* Individual store prices may vary.
Buy at Local Store
Enter your zip code below to purchase from an indie close to you.
or
Buy Here
Description
The Body Politic is the first comprehensive history of the significance and struggles over science in America.
About the Author
Jonathan D. Moreno is David and Lyn Silfen University Professor of Ethics and Professor of Medical Ethics and of the History and Sociology of Science at the University of Pennsylvania
Praise For The Body Politic…
A Kirkus Reviews Best Book of the Year and Scientific American Book Club selection
An impassioned defense of scientific study . . . an essential dose of logic." Salon
Regardless of who ends up occupying the White House in January 2013, one hopes that a few hours will have been set aside on the campaign trail to engage with this important book." Times Higher Education
An excellent guide . . . In his highly readable and provocative book, Moreno makes clear that progress, including biotechnological progress, is still America's most important product." Reason magazine
A timely take on the debate raging over biotechnology breakthroughs . . . Moreno shows how developments in biotechnology have affected people across the ideological spectrum. . . . conservatives concerned about abortion, neoconservatives worried about threats to human dignity and liberals fretting that new biotechnologies will exacerbate existing economic inequality." Nature
The most penetrating characterization and analysis of the shrill political battles fought over the use of our new biotechnologies (and the battles to come)." American Journal of Bioethics (AJOB)
Human cloning. Synthetic biology. Mood (and mind) altering drugs. Personalized medicine . . . The human future may be very different from the human past as these changes are negotiated and assimilated. And so may human politics. To help us prepare for this radical future is Jonathan Moreno, author of the new book The Body Politic: The Battle Over Science in America, which underscores the strange bedfellow allegiances that may occur in what has been called our biological century'." Point of Inquiry
Scholarly, sophisticated and compelling . . . If only more of our contemporary political battles were as careful, as cogent and as well grounded as The Body Politic, I'd be more confident that the unprecedented decisions being forced upon society by revolutionary advances in biology would most wisely and effectively be made." Washington Independent Review of Books
Erudite and sophisticated . . . provide[s] a historical and philosophical framework to enrich present bioethical debates." Real Change
An important analysis of the societal currents swirling around volatile scientific issues . . . Moreno delivers a powerful defense of science [and] respects his readers' intelligence in this nuanced and thoughtful book." Publishers Weekly
Moreno shows how biological discoveries aggravate cultural tensions, challenge our political system and values, and stimulate debate about the place of science and scientists in America. . . . Sophisticated, useful, and well-written." Library Journal
A concise but nuanced account of Enlightenment and post-Enlightenment debates about the role of science in American life." CHOICE
Historians will agree that progress" is as American as apple pie. What constitutes progress, of course, is always a point of contention. In The Body Politic, Jonathan D. Moreno examines the attitudes Americans hold about modern science's treatment of the human body. . . . Throughout the discussion, it's clear he has his thumb on the cultural and historical contexts in which these issues have arisen [and] Moreno explains that people on both sides of the aisle are expressing concern for unrestricted use of bioscience for different reasons . . . an excellent addition to any syllabus." ForeWord Reviews
A solid addition to any politics collections." Midwest Book Review (reviewer's choice)
Moreno shrewdly tracks the history of science in American politics from Thomas Jefferson to today's science culture wars. He explains how science and discovery have been central to our vision for the country, but often fueled a significant counter reaction. A must read for anyone who wants to understand science policy today." John Podesta, former White House Chief of Staff
Since the beginning of our quest to win the Indianapolis 500 our family has believed in the power of technology. The only limits to that technology have been human ones. The Body Politic reminds us that in biology as well as engineering, America will always need that pioneer spirit." Al Unser, Sr., Al Unser, Jr., Bobby Unser, Sr., Indianapolis 500 Champions
The Body Politic is required reading for anyone who wants to understand the history of American political thought about science, the dynamics of current controversies such as the stem cell debate, and the battle between those who see science as the route to a better future and those who see within the science the potential for a loss of our sense of human distinctiveness and dignity." Paul Root Wolpe, Ph.D., Director, Center for Ethics, Emory University & Chief of Bioethics for the National Aeronautics and Space Administration (NASA)
This groundbreaking must-read book situates the biological revolution in its historical, philosophical and cultural context and, with almost breathtaking elegance, shows how society may come to define itself by the body politic." Nita A. Farahany, Associate Professor of Law & Associate Professor of Philosophy, Vanderbilt University; Member, Presidential Commission for the Study of Bioethical Issues
The Body Politic is a penetrating and uncommonly fair-minded analysis of how science is construed, nourished, and antagonized across the rainbow of American thought and belief. Highly recommended for all those who would base their political opinions on facts, rather than on other people's opinions." Timothy Ferris, journalist, PBS filmmaker and author of The Science of Liberty: Democracy, Reason, and the Laws of Nature
Provides a fascinating, timely exploration of one our era's most momentous issues, the applicationsand misapplicationsof biomedical research." John Horgan, author of Rational Mysticism and Director, Center for Science Writings, Stevens Institute of Technology
Moreno clarifies major points of science-society tension over the last half century and brings a sharp eye to the societal context confronting future advances and their applications." Alan I. Leshner, Ph.D., American Association for the Advancement of Science (AAAS) CEO and Science Executive Publisher
The Body Politic reminds us that science occurs within a complex context that exerts powerful forces upon scientists, public officials, advocacy groups, and patients. Moreno has written the kind of book that needed to be written, combining detailed research, enlightened analysis, and an important message, all wrapped in accessible text." Eric M. Meslin, Ph.D., Director, Indiana University Center for Bioethics
A new wave of issues is coming at usgenetic testing, brain scans, synthetic biology, consumer eugenicsand radically challenging our notions of left and right. Jonathan D. Moreno has written a clear-eyed map of the emerging biopoliticsgreens, transhumanists, bioconservatives, technoprogressivesand a thoughtful defense of inquiry, innovation, and the liberating power of science." William Saletan, author of Bearing Right: How Conservatives Won the Abortion War and Slate National Correspondent
A beautiful book." Jay Schulkin, Ph.D., Research Professor, Department of Neuroscience, Georgetown University