Understories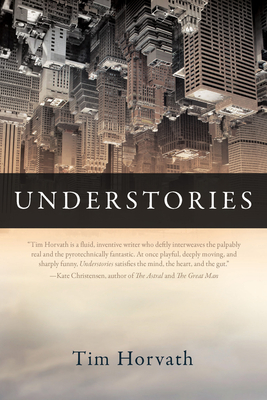 Understories
Bellevue Literary Press, Paperback, 9781934137444, 256pp.
Publication Date: May 1, 2012
* Individual store prices may vary.
Buy at Local Store
Enter your zip code below to purchase from an indie close to you.
or
Buy Here
Description
New Hampshire Literary Award Winner
"Profound . . . with more to say on the human condition than most full books. . . . A remarkable collection, with pitch-perfect leaps of imagination." --Minneapolis "Star Tribune"
"Horvath doesn't just tell a story, he gives readers a window into the hearts, minds and souls of his characters." --"Concord Monitor"
"Absolutely splendid . . . I call it elastic realism . . . firmly rooted in a realistic tradition of writing, but the stories are very elastic. They stretch realism into unexpected places, wonderful little niches that I just adore. . . . These are stories that are funny, they're odd . . . I loved this book." --NANCY PEARL, KUOW's "The Record"
What if there were a city that consisted only of restaurants? What if Paul Gauguin had gone to Greenland instead of Tahiti? What if there were a field called Umbrology, the study of shadows, where physicists and shadow puppeteers worked side by side? Full of speculative daring though firmly anchored in the tradition of realism, Tim Horvath's stories explore all of this and more-- blending the everyday and the wondrous to contend with age-old themes of loss, identity, imagination, and the search for human connection. Whether making offhand references to "Mystery Science Theater, " providing a new perspective on Heidegger's philosophy and forays into Nazism, or following the imaginary travels of a library book, Horvath's writing is as entertaining as it is thought provoking.
Tim Horvath teaches creative writing at New Hampshire Institute of Art and Boston's Grub Street writing center. He has also worked part-time as a counselor in a psychiatric hospital, primarily with autistic children and adolescents. He lives in New Hampshire with his wife and daughter.

About the Author
Tim Horvath received his MFA from the University of New Hampshire, where he won the Thomas Williams Memorial Prize. His story "The Understory" won the 2006 Raymond Carver Short Story Award, judged by Bill Henderson, and in 2008 he received a Yaddo fellowship. His work has appeared in or is forthcoming in Alimentum: The Literature of Food, Fiction, Web Conjunctions, Puerto del Sol, and many other journals. He lives in New Hampshire with his wife and daughter, and works as a psychiatric counselor and a creative writing instructor.
Praise For Understories…
This collection stand[s] out. There's plenty of imagination [in Understories] but it's rooted in recognizable and occasionally irrational emotions, a human quality that makes these stories endure. . . . Below the striking imagery, there's abundant emotional depth to be found." Vol. 1 Brooklyn
As any great book, Understories confronts the making of fiction itself, intermittently directly confronting the mechanics of fabrication. . . . A major accomplishment by a major writer . . . full of writing as deeply aware of its antecedents as it is aware of the possibilities within, of, and about narrative." Big Other
The Understory' is a terrific reach through history from the pre- and post- Nazi era in Germany up to the present. . . . This is a wonderful story, a first-rate creation by a fine writer." BILL HENDERSON, president and editor of Pushcart Press, in his judge's statement for the Raymond Carver Short Story Award
Monday, Jun 23, 2014
NPR's go-to books guru shares some "under the radar" reads. Several of her recommendations � including fiction, fantasy and nonfiction � will make you reconsider your definition of a map. More at NPR.org