The Marches King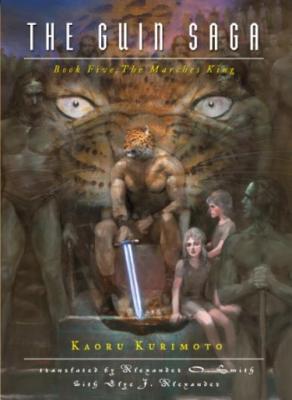 The Marches King
Vertical, Paperback, 9781934287200, 287pp.
Publication Date: July 29, 2008
* Individual store prices may vary.
Buy Now
or
Shop Local
Enter your zip code below to purchase from an indie close to you.
Description
"The Guin Saga "is epic heroic fantasy in the smae vein as Robert E. Howard's "Conan, the Barbarian." More than a hundred books strong and growing, the saga has sold more than twenty-five million copies in Japan. Vertical will publish the first five installments that comprise "The Marches Episode" arc. Each paperback edition will feature artwork taken from the original Japanese editions. (see art above).
Guin has found the Lagon, but now he must best their mightiest warrior, if he is to have any chance of acquiring the giants' aid. Meanwhile, the tenuous Sem alliance has become unglued, leaving them exposed to the Mongauli scouts, who quickly report their location to Lady Amnelis. Now, it is the Mongauli army's turn to trap the Sem. Guin must return with help in time to save his friends.
About the Author
Author Kaoru Kurimoto, winner of the Edogawa Rampo and Yoshikawa Eiji Awards, lives in Tokyo Japan.




Praise For The Marches King…
"A rousing tale of intrepid heroes, horrid villains and wicked supernatural creatures." –Publishers Weekly

"The Guin Saga was the most [inspiration for Berserk]. I started reading it in junior high and I'm still reading the new volume every month." –Berserk creator Kentaro Miura

"Kaoru Kurimoto manages the flurry of situations being set up and resolved like the trick of a putting a hand on a table with fingers spread out, then stabbing a blade between the outstretched digits. The speed and coordination is that amazing." –Scott Green, Ain't It Cool News

"A swashbuckling fantasy . . . action is always center stage . . . dreamlike . . . intense." –The Seattle Times

"This is classic fantasy at its best." –Book Sense (Fall 2003 Science Fiction and Fantasy Top Ten)

"Readers should be warned that once you start this journey, it will be nearly impossible to leave it unfinished." – SFRevu

"Japan's answer to The Lord of the Rings." –The Globe and Mail

"This has to be one of the best translations I've yet read. The language is fluid and establishes a strong narrative voice." –James Michael White, SFReader.com


"I get a little breathless just typing all that, and it's nothing compared to the experience of reading the Guin books. They're [The books] like Robert E. Howard crossed with manga and a triple espresso." –Fantasy and Science Fiction

"Guin is epic fantasy as I have come not to know it lately: restless, unapologetic, world-spanning, monster-smashing meat-and-potatoes fun." –Advanced Media Network