The Heaven-Sent Leaf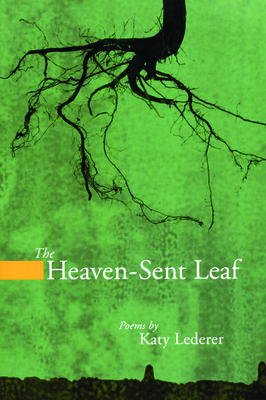 The Heaven-Sent Leaf
BOA Editions, Paperback, 9781934414156, 59pp.
Publication Date: October 1, 2008
* Individual store prices may vary.
Buy at Local Store
Enter your zip code below to purchase from an indie close to you.
or
Buy Here
Description
In The Heaven-Sent Leaf, Katy Lederer draws on her experience as both acclaimed younger poet and -brainworker- at a hedge fund in midtown Manhattan to produce an uncannily prescient work of high lyric. Though on its surface The Heaven-Sent Leaf addresses that most taboo of subjects--money--what it ultimately confronts is what it means to be, as Wallace Stevens put it, -finally human.- Working in the tradition of the flaneur, Lederer charts her speakers' interior landscapes according to the city's highly monetized geography, viewing life in the big city through the lens of expenditure--not just of money, but of all that money signifies. In poems that are both heartfelt and ruthlessly critical of our current financial milieu, in which the fates of individuals are packaged, priced out, and then bundled for sale on the open market, Lederer proves Robert Graves's famous observation wrong: though there may be no money in poetry, there is indeed poetry in money.
-Sparkling and strange, acrobatic but never evasive, clear-eyed about its own emotional life even as it takes semantics for a tumble, Katy Lederer's book-length sequence of not-quite-sonnets measures up to its contemporaries as a chronicle of love in and out of a life, in dramatis personae and in the poet's own soul: it excels all those contemporaries, and swerves away from almost all its precedents, in following at once the love and the money.---Stephen Burt
-These lyrically crisp poems chronicle the poet (gendered female) as 'brainworker' in contemporary New York. Where is prayer? Where nature? Where love? They are not to be found on the dizzying streetscape as seen from the top of an office building, but in the head and the heart of the poet buffeted by money-drenched dreams. 'I hate to be alone' Lederer writes, in the perfect 'Parable of Times Square.' But in this poem, and indeed this book, the remedy to the cold solitude of cash-getting is not other people but poetry.---Jennifer Moxley
Katy Lederer is the author of the poetry collection Winter Sex (Wave Books, 2002) and the memoir Poker Face: A Girlhood Among Gamblers (Crown Publishers, 2003), which Publishers Weekly included on its list of the Best Nonfiction Books of 2003 and Esquire named one of its eight Best Books of the Year in 2003.
About the Author
Katy Lederer is author of the poetry collection, Winter Sex (Verse Press, 2002) and memoir Poker Face: A Girlhood Among Gamblers (Crown, 2003), which Publishers Weekly included as Best Nonfiction Books of 2003 and Esquire Magazine named one of its eight Best Books of the Year 2003. She holds degrees from University of California at Berkeley and Iowa Writers' Workshop.