Cradle Book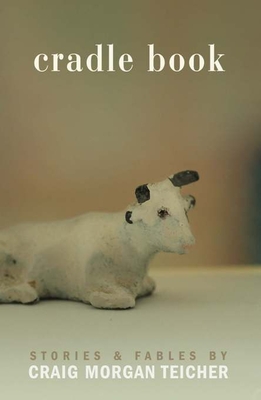 Cradle Book
Stories & Fables
BOA Editions, Paperback, 9781934414354, 72pp.
Publication Date: June 1, 2010
* Individual store prices may vary.
Buy at Local Store
Enter your zip code below to purchase from an indie close to you.
or
Buy Here
Description
Timeless yet timely and hopeful with a dark underbelly, these fables revive a tradition running from Aesop to W.S. Merwin. With a poet's mastery, Craig Morgan Teicher creates strange worlds populated by animals fated for disaster and the people who interact with them, or simply act like them, including a very sad boy who wishes he had been raised by wolves. There are also a handful of badly behaving gods, a talking tree, and a shape-shifting room.
Craig Morgan Teicher is poetry editor of "Publishers Weekly" and a vice president on the board of the National Book Critics Circle. He lives in Brooklyn, New York.
From The Brooklyn Rail:
The great challenge of literature is always changing, is as mutable as our striving and forgetful cultures- but always, it is some part of the author's job description to strip away our truisms and describe the gaping unknown. Teicher, in Cradle Book, sits somewhere on the other side, and transmits.
From Powell's Books:
Instead of the artifical clarity of the carefully orchestrated life evident in so much narrative realism, these pieces seek to explore what we don t understand, to open up questions that lead to more questions...Fables in the truest sense, these exquisite stories offer a sense of wonder even as they lead us deeper and deeper into the darkness of the unconscious.

About the Author
Craig Morgan Teicher is poetry editor of Publishers Weekly, and a Vice President on the board of the National Book Critics Circle. His first book of poems, Brenda Is In The Room And Other Poems, was chosen by Paul Hoover and published as winner of the 2007 Colorado Prize for Poetry. He teaches at Pratt Institute and Columbia University.
Praise For Cradle Book…
"Cradle Book is incredibly rich and incredibly slim, incongruously small considering all it contains. To quote Teicher's story, 'The Red Cipher,' it is '[l]ike those unusual houses that are much bigger on the inside than their exteriors suggest,' as if each tale opens up a kind of hall of mirrors, something flickering into the distance in such a way as to suggest a path This is a book to read aloud, to spend time under the spell of. Like the older fables Teicher must have had in his mind and ears when these were written, the stories in Cradle Book slip easily into the region of a reader's imagination where a good story is capable of waylaying danger, and where impenetrable mystery is realer and more relevant than what we see, by day, through our actual eyes."
The Best American Poetry

"Instead of the artificial clarity of the carefully orchestrated life evident in so much narrative realism, these pieces seek to explore what we don't understand, to open up questions that lead to more questions. ... Fables in the truest sense, these exquisite stories offer a sense of wonder even as they lead us deeper and deeper into the darkness of the unconscious."
Rain Taxi

"Though he is drawing from a fabular tradition that itself draws upon the rich heritage of folklore, Teicher breaks from both forms by placing his speaker in a position where the stories he tells both distort and bring him into sharper focus.... The book is at once a collection of fables, of philosophy, of prose and prose poems, of aphorisms, creation myths, mystery, and parable."
The Rumpus.net